Plant Protein
Product key benefits
Delicious taste & smooth texture
Natural protein
Supports digestive health
Skip to product information
Ingredients

Plant Proteins (78%) (Australian Yellow Pea protein, Australian Faba Bean protein, Organic Pumpkin protein), Natural cocoa, Natural flavours, Organic Coconut MCT powder (3%), Himalayan pink rock salt, Digestive enzyme blend (0.3%), Natural sweeteners (Monk fruit extract, Organic steviol glycosides, Thaumatin), Bacillus coagulans (0.1%). Product includes 48% Australian Yellow Pea protein, 20% Australian Faba Bean protein, 10% Organic Pumpkin protein.

Allergens

Produced in a facility that handles dairy products and nuts.

Nutirional Information

| | | |
| --- | --- | --- |
| RICH CHOCOLATE | PER 30G SERVE | PER 100G |
| Energy | 519kJ (124Cal) | 1730kJ (413Cal) |
| Protein | 20g | 65g |
| - Gluten | Nil detected | Nil detected |
| Fat, total | 3.6g | 12.1g |
| - Saturated | 1.5g | 4.9g |
| Carbohydrates | 2.3g | 7.6g |
| - Sugars | 0.6g | 2.1g |
| - Lactose | Nil detected | Nil detected |
| Dietary fibre | 1.7g | 5.7g |
| Sodium | 119mg | 398mg |
| Bacillus coagulans | 1 billion CFU | 3.33 billion CFU |
| Protease | 36mg | 120mg |
| Amylase | 9mg | 30mg |
| Cellulase | 3mg | 10mg |
| Lipase | 9mg | 30mg |
| Lactase | 3mg | 10mg |
Free Signature Crew Socks
Ends 17.12.23. Spend a minimum of $150
Free Shipping Over $99
Australian Made
Money Back Guarantee
This flavour does not contain a scoop.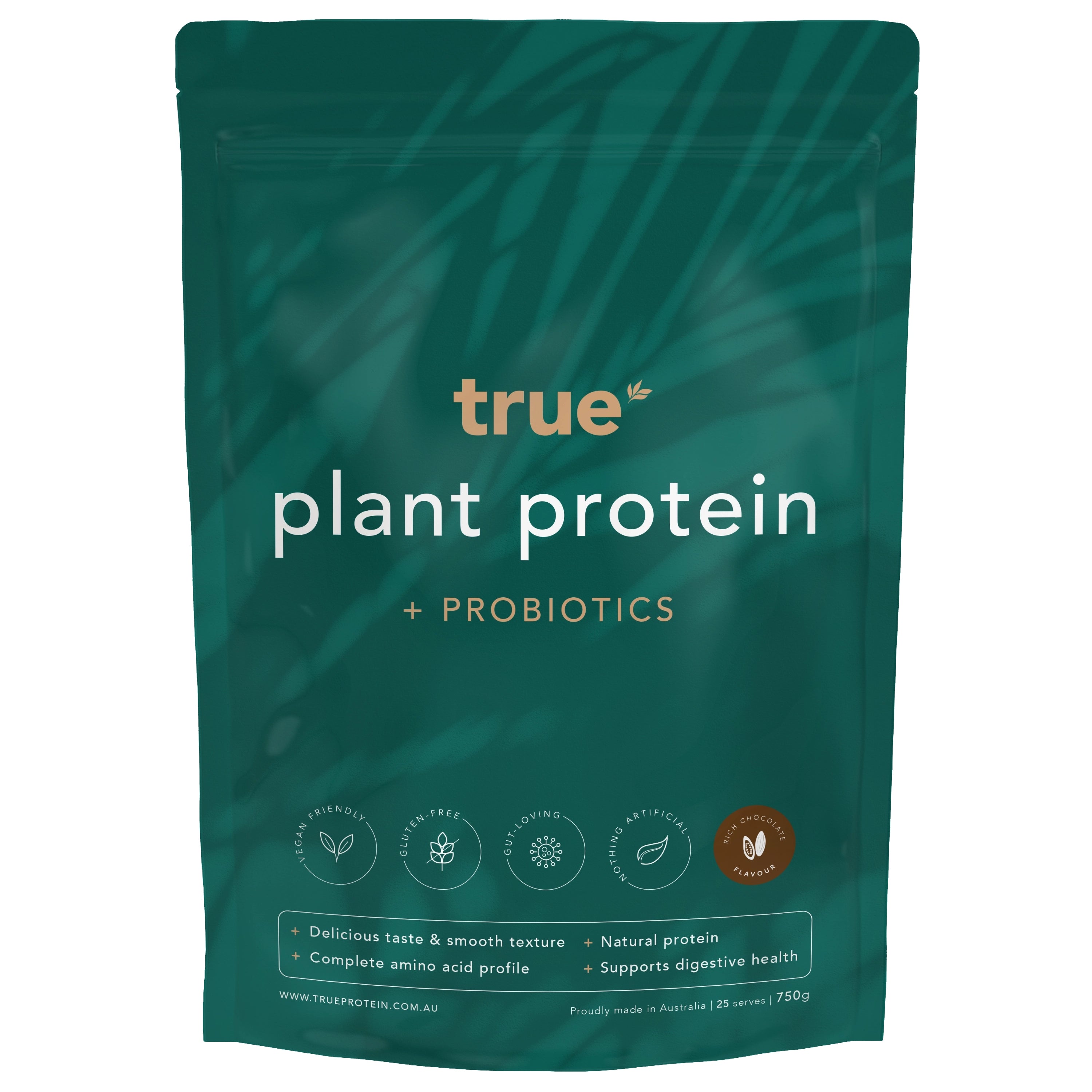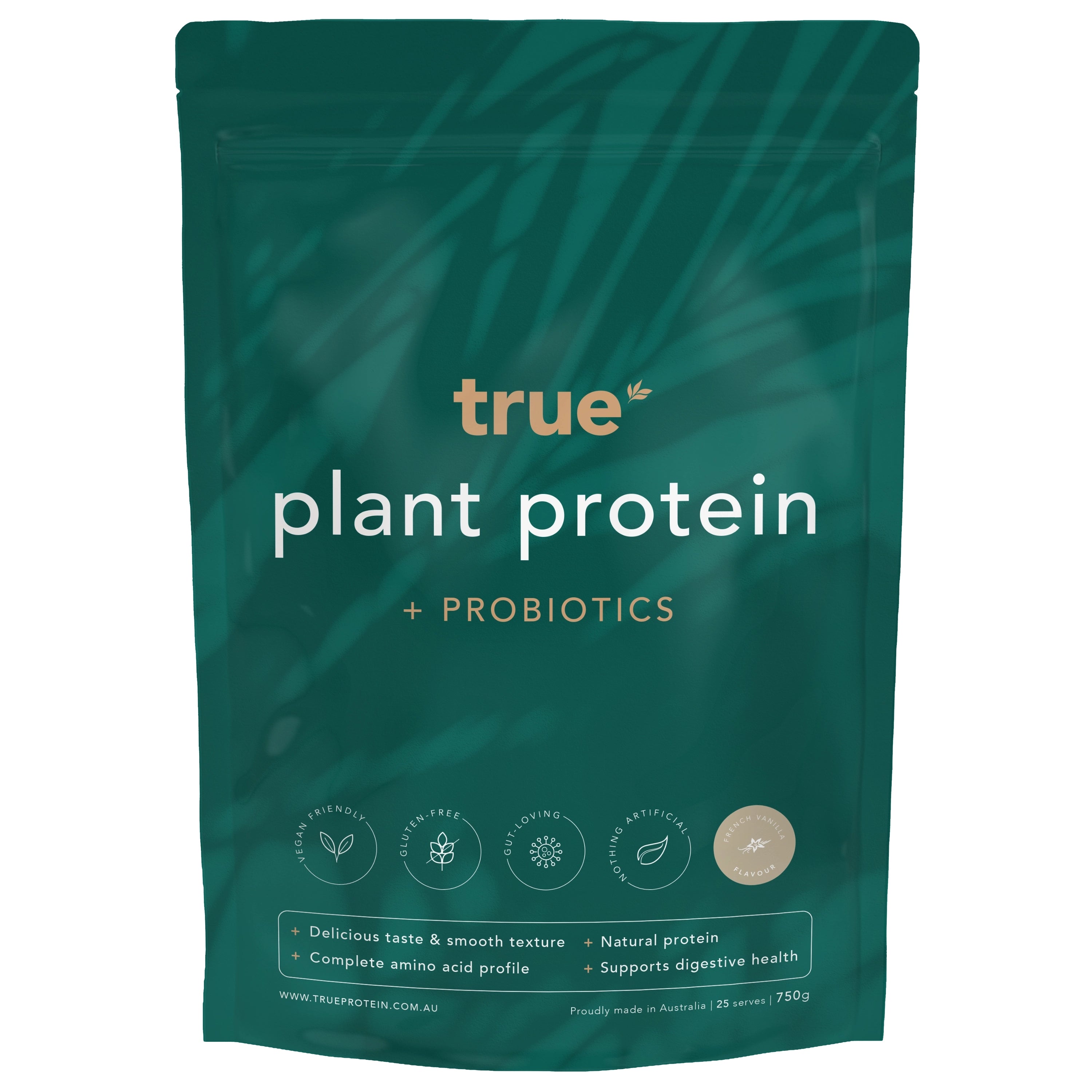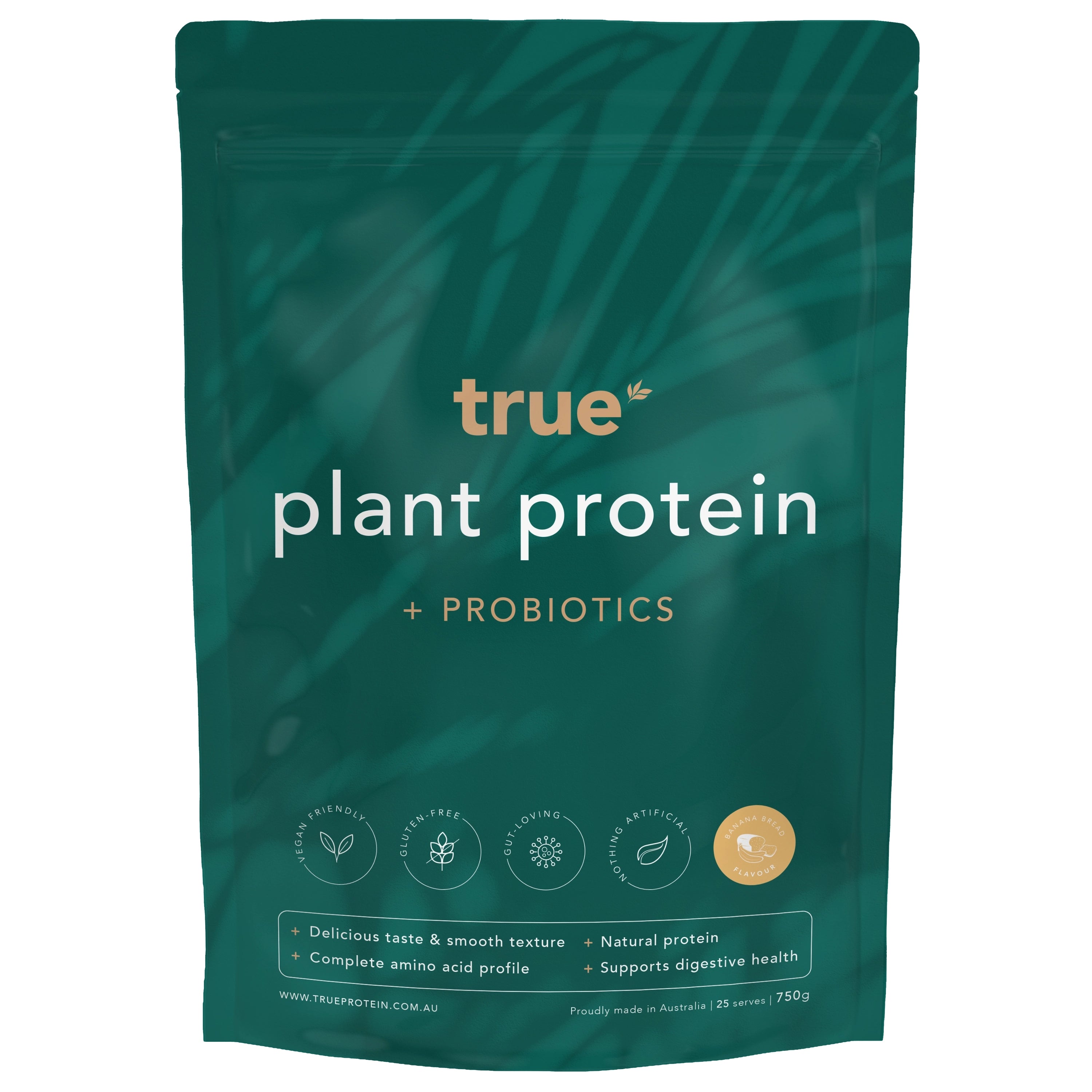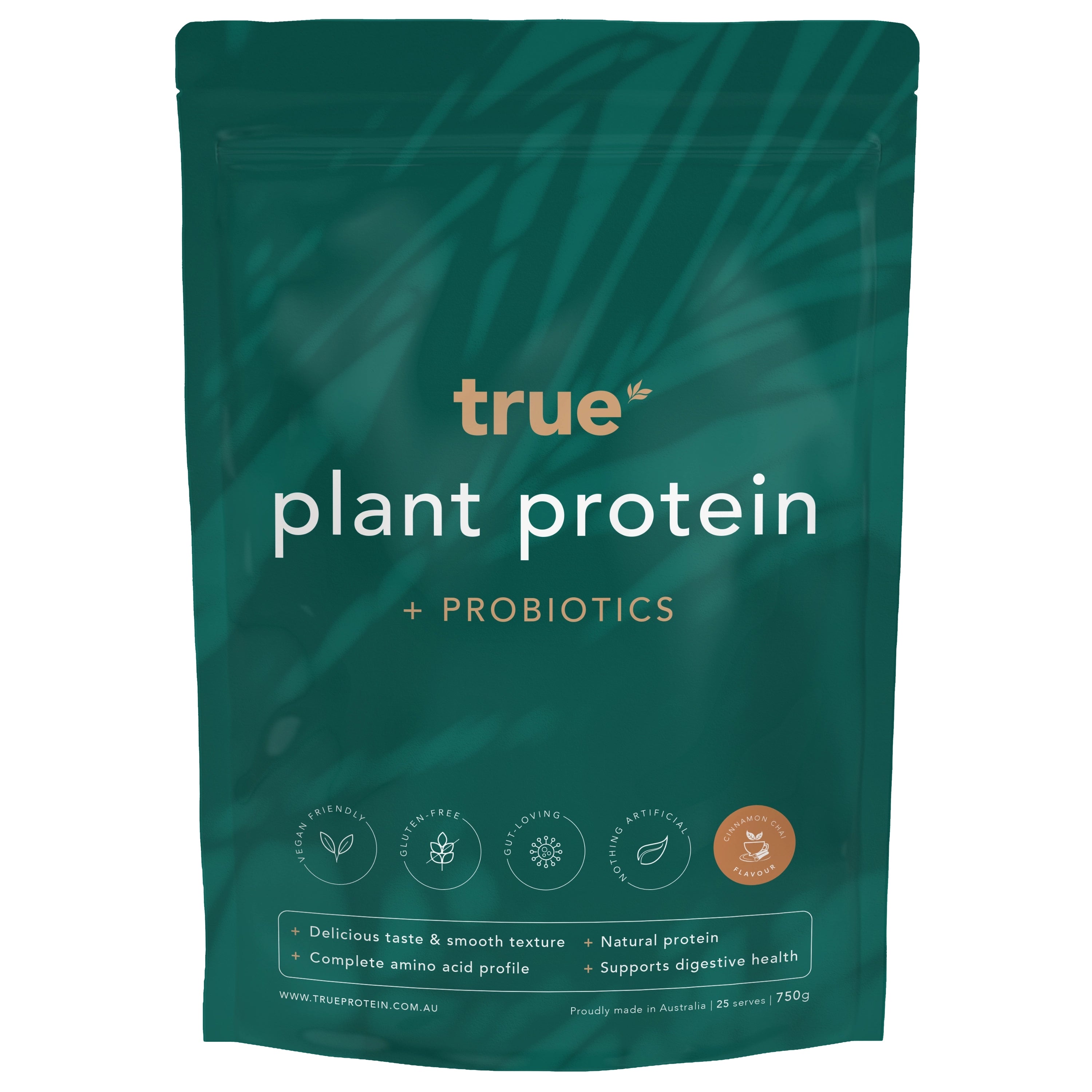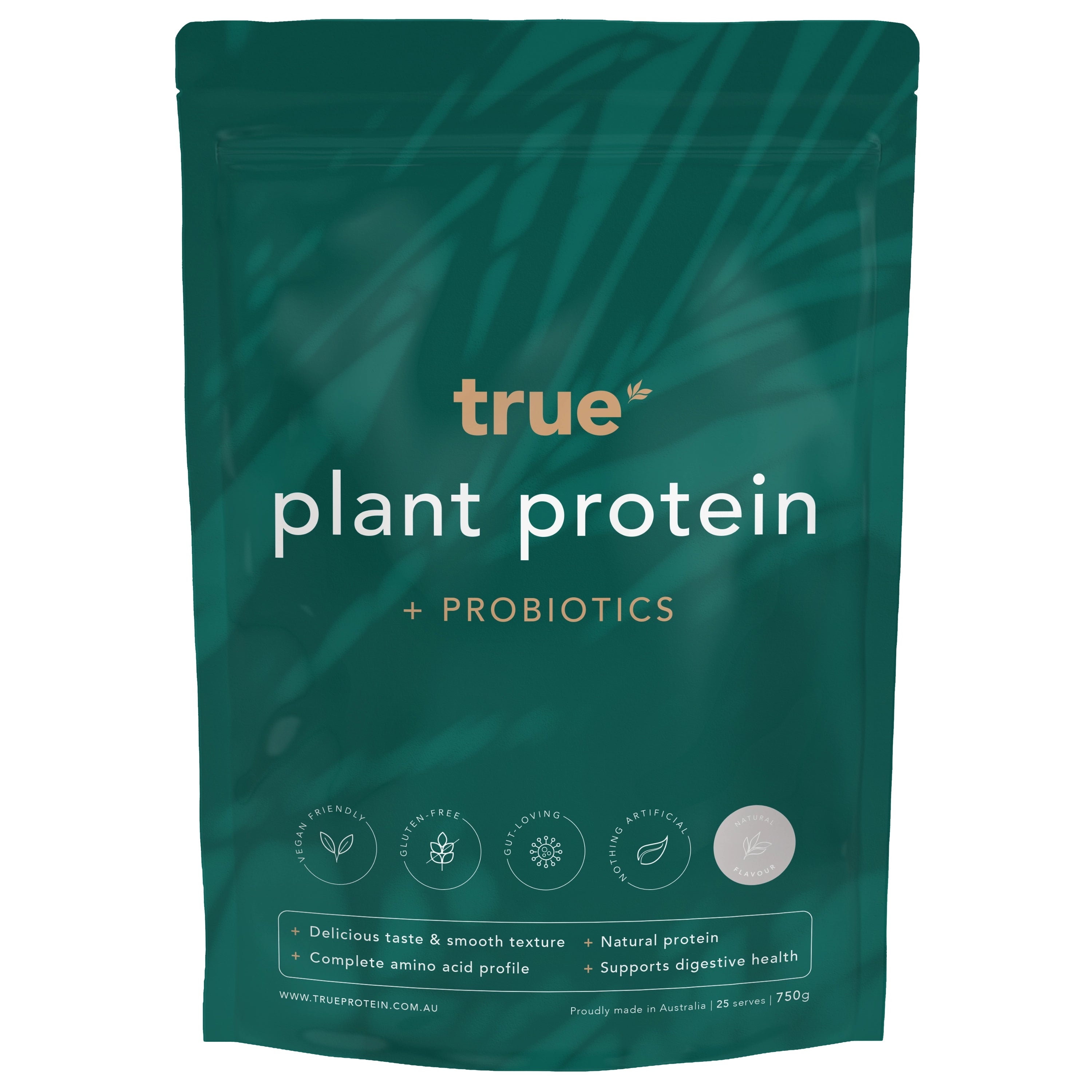 The Next Generation of Plant Protein is Here
True Plant Protein is a triple blend of Australian yellow pea, Australian faba bean and organic pumpkin seed proteins. Plus, we've added probiotics and digestive enzymes for enhanced absorption. The end result is a complete protein source that's deliciously smooth, natural, and entirely vegan-friendly.
Rich Taste, Smooth Texture
Plant Protein represents the next generation of plant-based protein. With full-bodied taste and amazing mixability, it's delicious with water alone.
Supports Digestive Health
Clinically proven doses of probiotics & digestive enzymes maintain regularity, stimulate the gut microbiome and restore digestive health.
Non-Bloating Formula
Plant Protein is easy on the tummy, making it the perfect alternative for those who experience intolerance to dairy, nuts, gluten, soy or egg.
100% Plant Based
Ingredients in True Plant Protein are entirely free from animal origin, making it ideal for those who choose a vegan lifestyle or are looking to reduce their animal product consumption.
Full Amino Acid Profile
Unlike singular-source plant proteins, True Plant Protein boats a full-spectrum amino acid profile to support lean muscle development, recovery and a healthy immune system.
Nothing Artificial
Made with only the finest quality raw ingredients: no artificial colours, flavours, sweeteners or fillers.
Reviews + Questions
Customer Reviews
Write a Review
Ask a Question
Filter Reviews:
taste
plant protein
texture
vanilla
flavour
protein powder
water
smoothie
chocolate
plant
04/12/2023
Tom

Australia
My go to protein, nothing else I've tried compares
03/12/2023
Crystal

Australia
Great product and taste delicious .
02/12/2023
George K.

Australia
I recommend this product
True Plant Protein
Good experience from order to delivery.
29/11/2023
Simone D.

Australia
I recommend this product
Healthy and Tasty!
I add this to my breakfast and yogurt and berries to increase my protein intake. I love this because it is GF, LF, and doesn't use Aspartame (which many products do). It tastes excellent and blends well. Very happy.
22/11/2023
Christine L.

Australia
I recommend this product
Plant protein
Very good product. Gentle on my stomach and feeling full for a good couple of hours.
FAQs
Where are the proteins in Plant Protein sourced from?

True Plant Protein is made with Australian yellow pea and faba bean proteins sourced from Victorian farms. Governed under some of the highest standards of farming in the world, this plant protein is produced without the use of solvents or enzymes. The end result is a 'clean', soluble and high quality powder. Our organic pumpkin seed protein is sourced from one of the worlds finest suppliers in the Netherlands.
Why is there more than one protein source in this powder?

To give it a complete amino acid profile for maximum health benefits. Amino acids are divided into two categories: non-essential acids already found in our body, and essential amino acids. Essential acids are deemed as such because they cannot be synthesised or stored by our body, and are gained only by eating foods that contain them. A food that contains all nine essential amino acids is classed as 'complete'. Achieving a comprehensive amino acid profile in a non-dairy product can be undoubtedly more difficult when using a singular source. True has blended three plant-based proteins together in order to create a complete amino acid profile that is superior to other single-source non-dairy supplements on the market. These essential amino acids, including BCAAs, are necessary for a range of bodily processes including maintaining muscle and energy production.
Is Plant Protein low FODMAP?

Pea, faba bean and pumpkin proteins are all considered low FODMAP in moderate serves. However, Plant Protein has not undergone specific testing for FODMAPs. We understand that individuals may have varying reactions to FODMAPs based on their personal tolerance levels. Therefore, if you have specific dietary concerns or requirements, we highly recommend consulting a registered dietitian who can provide personalised guidance based on your unique needs and the products you are considering.
Why is there no scoop in my Plant Protein?

True is currently phasing out using plastic scoops, with Plant Protein being one of the first products to go without! The serving size is 30g or 3 heaped tablespoons. If you have a large True scoop handy (used in WPI 90, WPC 80, Pro Define etc) 30g is equivalent to one scoop.
Why do I need to supplement protein?

There is a common misconception that protein can only be consumed by eating meat, eggs and dairy. If you're a vegan, you've probably heard the question 'where do you get your protein from?' more times than you can count. While animal products are a great source of protein due to the proteins found in their own bodies, it is entirely possible to get sufficient protein from plant-based sources. There are countless sources of easy-to-eat plant proteins available right at our fingertips. Some examples of foods naturally high in protein include nuts, legumes, beans, grains, rice, seeds and some fruits and vegetables. However, for those who are time poor, who aren't sure how to prepare high protein meals, or have a smaller appetite, it may feel difficult to meet daily protein needs. True's Plant Protein is an all-natural blend that offers a convenient and vegan-friendly solution. A unique blend of Australian faba bean, Australia yellow pea and Netherlands pumpkin seed proteins it is 100% derived from plant-based sources. This makes it the perfect solution for vegans or those looking for a non-dairy alternative to whey protein. Boasting over 20 grams of protein per serve, it is an extremely easy, convenient and versatile way to boost your daily protein intake.
Does Plant Protein help with muscle growth?

Yes. Protein helps repair and build muscle, which is why it's helpful to consume protein in a shake or whole food source after you've worked out. Whether the protein comes from an animal or plant-based source, the components are the same: they are both made up of amino acids, just in different ratios. Consuming a surplus of protein is essential in providing your body with enough amino acids to continuously repair and rebuild muscle. A protein supplement can be the easiest, most convenient way to add protein to your diet. With an average of 20 grams per serve, Plant Protein provides your cells with the amino acids they need to synthesise the proteins that stimulate muscle growth. Using Plant Protein alongside an appropriate training program and a well-balanced diet including calcium-rich foods such as nuts, beans and leafy greens, will aid in lean muscle growth, recovery and overall athletic performance.
Is plant-based protein powder as good for you as whey protein?

There is a lot of debate over this, as many plant-based proteins have an incomplete amino acid profile, which means they are missing one or more essential amino acids. However, True's Plant Protein blend boasts a complete amino acid profile, making it comparing to other protein sources such as whey. As every one of our protein powders are natural, whichever supplement you choose will be boosted by big health benefits.
Is Plant Protein good for weight loss?

Plant Protein powder can be used to supplement a healthy diet for weight loss. Creating an overall energy deficit through exercise and eating a good balance of whole food groups is key for anyone looking to lose weight – unfortunately protein shakes alone don't contain any magic weight loss remedies. Despite the various claims from other companies, these pills and powders don't exist!
However, taking protein shakes alongside a healthy diet can aid weight loss. Protein is key for maintaining muscle mass and helps to keep your metabolism pumping. Protein shakes can also help fend off food cravings as they keep you feeling full and satisfied for longer. With no added sugar, nothing artificial, no fillers and trace amounts of fat and carbs, Plant Protein is natural and healthy for you, coming in at under 130 calories per shake when mixed with water and with less saturated fat than WPC80. Try replacing one of your usual snacks with a protein shake for a low-calorie, protein-packed boost that will keep you satiated for longer.
Can I take Plant Protein powder when pregnant or breastfeeding?

First and foremost, you should seek individualised advice from your doctor during pregnancy and breastfeeding. During this time, adequate protein can usually be attained by consuming whole food protein sources such as tofu, beans, nuts and seeds. Sometimes this isn't always achievable, and a protein supplement can be a useful and convenient way to ensure an adequate diet. Much of the confusion regarding protein powders relates to the added ingredients such as artificial flavours, sweeteners and preservatives as well as the risk of contamination of banned substances or heavy metals during processing of these powders. Trusting your brand as well as reading and interpreting the nutrition label is essential in understanding the ingredients within the product.

The ingredients used in Plant Protein are generally safe and suitable for pregnant and lactating women to use as a top-up to their diet. If you have any known sensitivity to the ingredients, talk to your healthcare professional before consuming. Please note: do not give the product to infants and children under 3 years old.

Please see

here

for more information.
Can I cook with Plant Protein?

Yes! Protein powder does not have to be restricted to shake form, you can add Plant Protein to a variety of hot, cold and raw recipes including smoothies, smoothie bowls, baked goods, bliss balls, oats and raw vegan treats. This can make for a fun switch from your usual protein shake and keep you motivated to keep trying delicious new ways of eating more protein. You can find a wide range of recipes on our

True Life Hub

.
Suggested Use
Add 30g (3 heaped Tablespoons) to 250-300ml of liquid of your choice. Shake well and consume immediately. Consume 1-3 servings daily or as required.

True Protein recommends as a guideline 1.5 to 2 grams of protein per kilogram of bodyweight. This recommendation is based on the assumption that your goals are to build lean muscle and enhance recovery. This translates to an 80kg person taking roughly 120g to 160g of protein per day. We recommend that you fulfill this quota through a combination of wholefoods and protein supplementation.
Features
Nutritionals
Ingredients:
Ingredients

Plant Proteins (78%) (Australian Yellow Pea protein, Australian Faba Bean protein, Organic Pumpkin protein), Natural cocoa, Natural flavours, Organic Coconut MCT powder (3%), Himalayan pink rock salt, Digestive enzyme blend (0.3%), Natural sweeteners (Monk fruit extract, Organic steviol glycosides, Thaumatin), Bacillus coagulans (0.1%).

Product includes 48% Australian Yellow Pea protein, 20% Australian Faba Bean protein, 10% Organic Pumpkin protein.

Allergens
Produced in a facility that handles dairy products and nuts.
Nutritional Information:
| | | |
| --- | --- | --- |
| RICH CHOCOLATE | PER 30G SERVE | PER 100G |
| Energy | 519kJ (124Cal) | 1730kJ (413Cal) |
| Protein | 20g | 65g |
| - Gluten | Nil detected | Nil detected |
| Fat, total | 3.6g | 12.1g |
| - Saturated | 1.5g | 4.9g |
| Carbohydrates | 2.3g | 7.6g |
| - Sugars | 0.6g | 2.1g |
| - Lactose | Nil detected | Nil detected |
| Dietary fibre | 1.7g | 5.7g |
| Sodium | 119mg | 398mg |
| Bacillus coagulans | 1 billion CFU | 3.33 billion CFU |
| Protease | 36mg | 120mg |
| Amylase | 9mg | 30mg |
| Cellulase | 3mg | 10mg |
| Lipase | 9mg | 30mg |
| Lactase | 3mg | 10mg |