Gut Health
products.product.featured_review_caption
I am so happy with how I have been feeling since starting the gut health. I have it first thing in the morning and it has done wonders for my digestion. I feel great.
Product key benefits
Formulated in conjunction with Monash University
Scientifically formulated blend
Supports microbiome diversity for a healthy gut
Skip to product information
Nutirional Information

| Average Quantity | Per Serving | Average Quantity per 100g |
| --- | --- | --- |
| Energy | 104kJ (25Cal) | 1300kJ (311Cal) |
| Protein | 2.4g | 30.2g |
| - Gluten | nil detected | nil detected |
| Fat, total | less than 0.1g | 0.6g |
| - Saturated | less than 0.1g | 0.2g |
| Carbohydrate | 2.6g | 32.1g |
| - Sugars | 1.9g | 23.2g |
| - Lactose | 0.4g | 5.2g |
| Dietary fibre | 2.4g | 29.7g |
| Sodium | 14mg | 174mg |
Free Shipping Over $99
Australian Made
Money Back Guarantee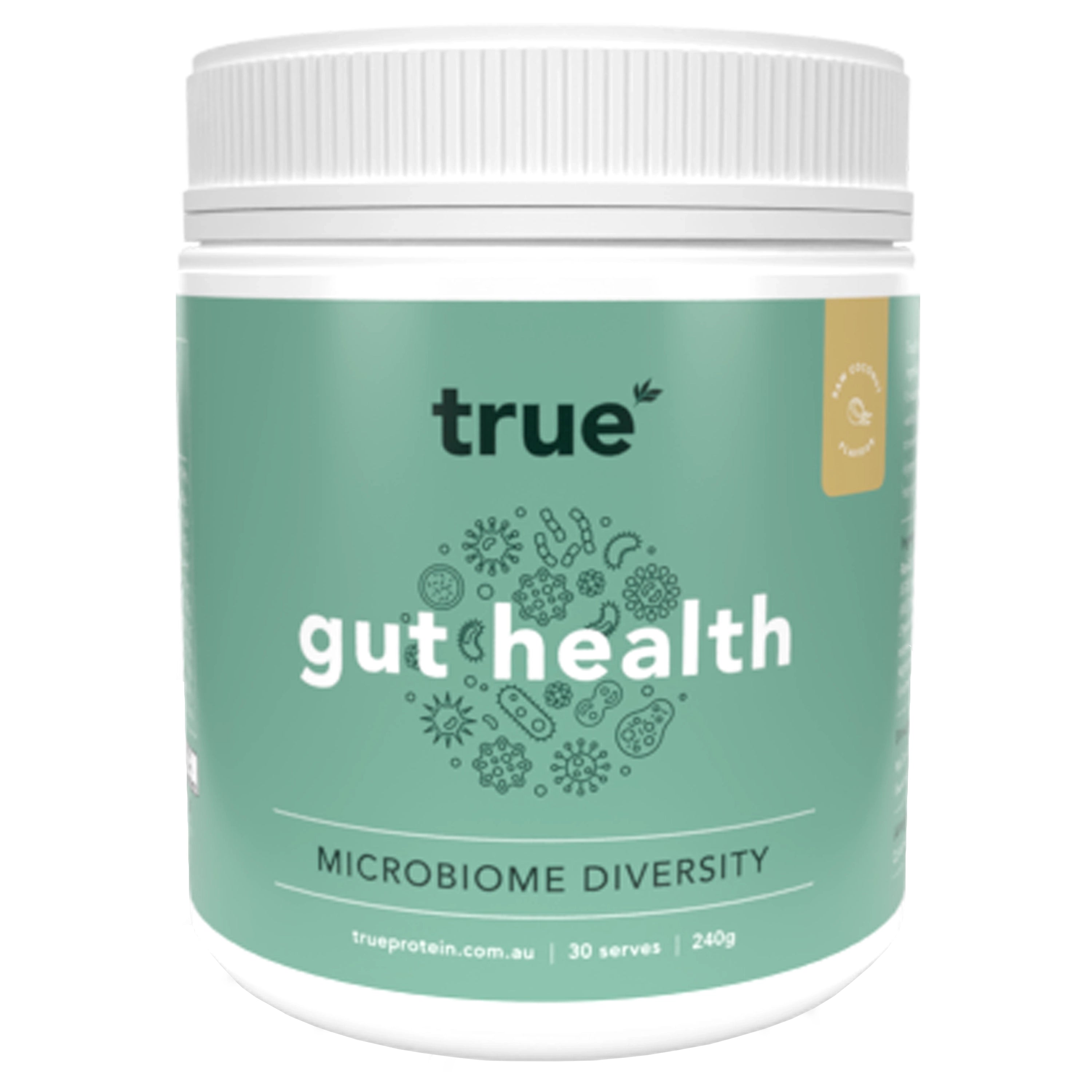 I am so happy with how I have been feeling since starting the gut health. I have it first thing in the morning and it has done wonders for my digestion. I feel great.
Microbiome Diversity for a Healthy Gut
Every human has an entire ecosystem of microscopic microbiota living inside their gut, spanning all the way from the mouth, through to the stomach, intestines and out the other end. the diversity of your unique microbiota directly correlates with the health of this ecosystem (the gut microbiome). True Gut Health is a scientifically formulated blend of naturally derived ingredients to support diversity within your microbiome, nurturing a healthy gut.
Supports Microbiome Diversity
The diversity of your gut microbiota affects its ability to fight bacteria, absorb nutrients and digest food.
Premium Ingredients
Gut Health includes naturally derived ingredients such as collagen, seaweed extract, prebiotic fibre, organic cinnamon, ginger and fruit peel extract.
Scientifically Formulated
Gut Health was formulated in conjunction with Monash University to create a robust formula the nourishes your gut with meaningful ingredients.
Contributes to Immune Function
Probiotics have been shown to have a positive effect on the system, as probiotics can help to stimulate cell production.
Source of Prebiotic Fibre
Prebiotics are an essential component of a healthy body, feeding the beneficial bacteria in the gut, allowing it to thrive and carry out its required roles.
Supports General Health & Wellbeing
Gut Health supports the microbiome, which has an important role in immunity, mental health, digestion and even body weight.
Reviews + Questions
Customer Reviews
Write a Review
Ask a Question
Filter Reviews:
gut health
stomach
bloating
water
difference
coconut flavour
smoothies
gut health supplements
powder
True
30/11/2023
Kellie

Australia
Tastes great , I add it to my protein shakes in the morning
09/11/2023
Emily

Australia
I recommend this product
Unbelievable!
By far, hands down, best gut health product on the market. Having struggled with anxiety and the brain - gut challenges, this product has improved my wellbeing 10 fold. Thank you team!
07/11/2023
Valentine R.

Australia
I recommend this product
AMAZING
Really saw improvement in my gut health!! Very happy with this product
02/08/2023
Danielle M.

Australia
I recommend this product
Great in smoothies
Love adding this product to my smoothies.
31/07/2023
Sarah M.

Australia
I recommend this product
True Gut Health
Great to add to your True protein shake. Nice subtle cinnamon flavour. Highly recommend for good gut health.
Hi Sarah, thank you for your great feedback. We are so happy to hear that you are enjoying our Gut Health! - True team
FAQs
What does True Gut Health do?

True Gut Health is a scientifically formulated blend of naturally derived ingredients to support microbiome diversity and nurture a healthy feeling gut.
What is a gut microbiome?

The gut microbiome refers to the trillions of living microbiota (gut bugs) that inhabit our gut, all the way from your mouth to our stomach and through our intestines, all the way out the other end. Microbiota are the bacteria, pathogens and other tiny microorganisms colonising our gastrointestinal tract. Microbiota diversity and the level of harmony in which they live can correlate with the health of our gut microbiome.
Will True Gut Health heal my gut issues?

True Gut health will encourage the health and diversity of your gut by supporting a healthy microbiome.
Is True Gut Health natural?

The ingredients used in True Gut health are naturally derived. It does not contain any artificial colours or additives.
Is True Gut Health high in fibre?

Adequate dietary fibre is essential for proper functioning of the gut. The National Australian Government guidelines recommends 25-30gm a day of fibre for adults. True Gut Health provides a good source and amount of fibre per serve to ensure that you are well on your way to supporting the recommended daily fibre intake from various sources of fibre. To be kind to your stomach it is best to consume this fibre intake throughout the day, as large doses at one time can cause some digestive upset. If you are increasing your current intake to meet your daily need, slow and steady is always advised and remember to also up your water intake
What is GOS?

GOS stands for galacto-oligosaccharides, which are chains of galactose sugars. These compounds are found naturally in certain foods and move through the digestive tract in-tact, as there is no human enzyme capable of breaking down these bonds. They move through the gut unabsorbed and act as food for the growth of our good bacteria, such as Bifidobacterium and Lactobacillus species.
Is True Gut Health dairy free, gluten-free, keto or vegan?

No, True Gut Health is not dairy-free or vegan friendly, as the GOS in this product is derived from milk. We chose to use the milk-derived GOS because other sources such as legume-derived GOS can often be more likely to cause gas and bloating than milk-derived GOS. True Gut Health is gluten-free and keto friendly.
Is True Gut Health FODMAP friendly?

Yes, True Gut Health is low in FODMAPS (fermentable oligosaccharides, disaccharides, monosaccharides and polyols). If you are following a Low FODMAP Diet, you can incorporate this product into your FODMAP friendly meal plan.
Why does Gut Health contain Xanthum gum?

Not all gums are equal. Xanthum gum is made by the fermentation of a carbohydrate and the bacteria Xanthomonas campestris, to provide a natural substance that helps give True Gut Health its enjoyable texture. We never use any artificial ingredients in our products, which is why we chose to use a small amount of Xanthum gum to create another great tasting product that supports your health from the inside out.
I have a very sensitive gut, is True Gut Health suitable for me?

Everyone's digestive system is unique and has a different tolerance to prebiotics and fibre depending on their health status, diet and lifestyle. Our dosage recommendations are 1 tsp 1-2 times a day e.g. 1 tsp in the morning and 1 tsp at night. However, if you know that you have a particularly sensitive or reactive gut then we recommend starting at ½ tsp once a day, building your tolerance gradually. This will minimise any stomach upset such as gas and bloating, whilst still giving you the benefits of the product. If you still have concerns or are working with a health practitioner on your digestive complaints, then we recommend consulting with them to see if this product is suitable.
Suggested Use
1. Mix 8g (1 Tbsp) in 100-200ml water, your morning smoothie or favourite juice. Consume 1-2 times daily.
Features
Nutritionals
Nutritional Information:
| Average Quantity | Per Serving | Average Quantity per 100g |
| --- | --- | --- |
| Energy | 104kJ (25Cal) | 1300kJ (311Cal) |
| Protein | 2.4g | 30.2g |
| - Gluten | nil detected | nil detected |
| Fat, total | less than 0.1g | 0.6g |
| - Saturated | less than 0.1g | 0.2g |
| Carbohydrate | 2.6g | 32.1g |
| - Sugars | 1.9g | 23.2g |
| - Lactose | 0.4g | 5.2g |
| Dietary fibre | 2.4g | 29.7g |
| Sodium | 14mg | 174mg |