True Protein Bar
products.product.featured_review_caption
I love this product. It's healthy, has known ingredients & is just plain delicious! I have one in my bag at all times. A great option on busy days.
Product key benefits
100% natural whole foods
High protein content
Ultimate on-the-go snack
Skip to product information
Ingredients

Organic soluble fibre (tapioca IMO), Almonds, Dates, Whey protein concentrate (NZ), Hydrolysed bovine collagen peptides, Tahini (ground sesame seeds), Natural cocoa (2%), Chia seeds, Natural chocolate flavours, Organic extra virgin coconut oil, Himalayan pink salt.

Allergens

Contains: Tree nuts (almonds), dairy and sesame. Made on equipment that manufactures products containing peanuts, other tree nuts, soy and sulphites. Product may contain occasional shell or pit pieces.

Nutirional Information

| | | |
| --- | --- | --- |
| RICH CHOCOLATE | PER 63G SERVE | PER 100G |
| Energy | 951kJ (227 Cal) | 1510kJ (361 Cal) |
| Protein | 17.2g | 27.3g |
| Fat, total | 10.1g | 16.0g |
| - Saturated | 1.5g | 2.4g |
| Carbohydrates | 8.5g | 13.5g |
| - Sugars | 7.6g | 12.0g |
| Dietary Fibre | 11.4g | 18.1g |
| Sodium | 84mg | 134mg |
| Gluten | nil detected | nil detected |
Free Signature Crew Socks
Ends 17.12.23. Spend a minimum of $150
Free Shipping Over $99
Australian Made
Money Back Guarantee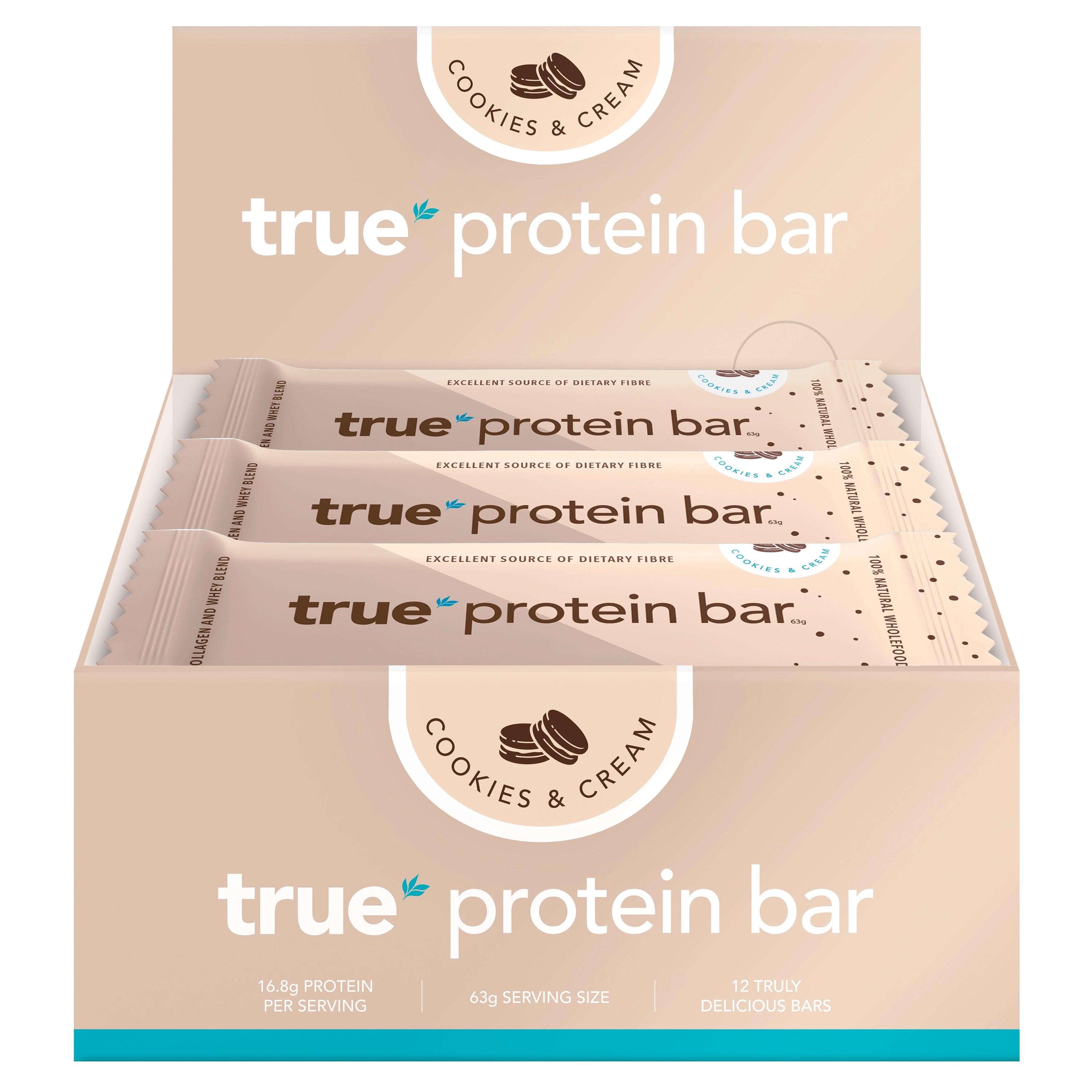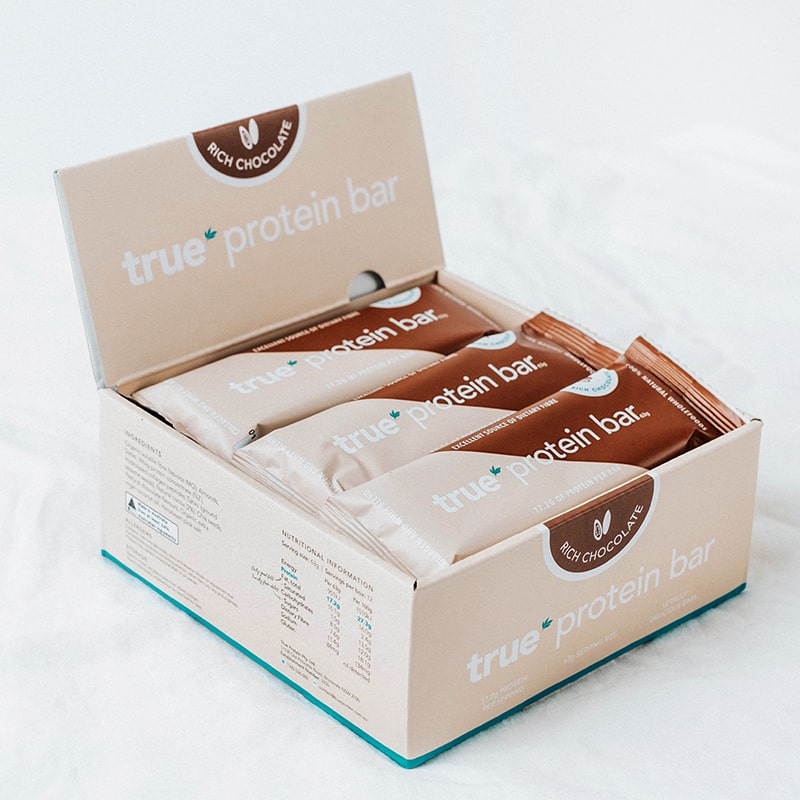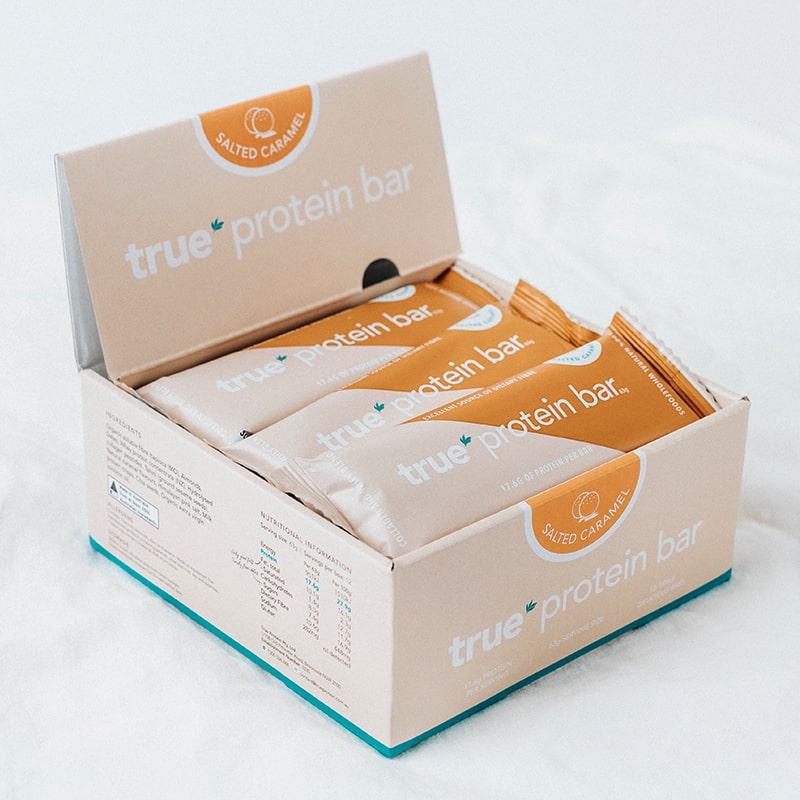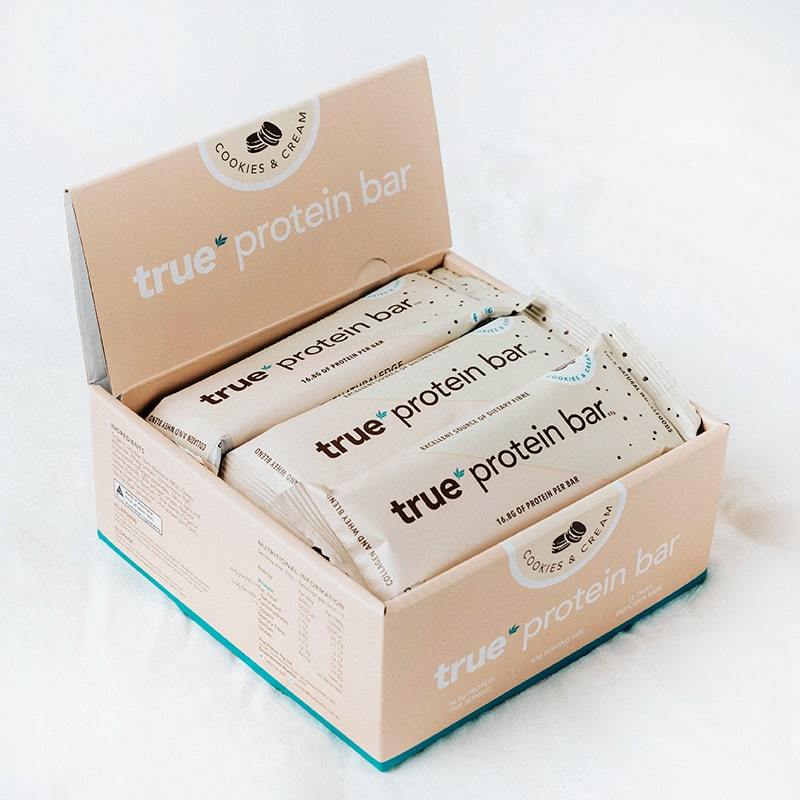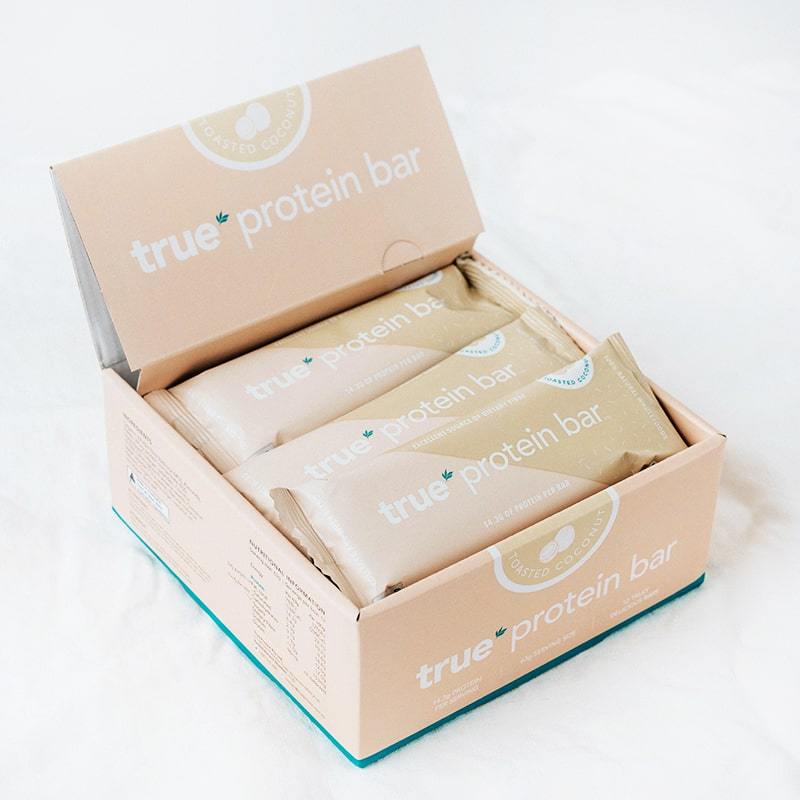 I love this product. It's healthy, has known ingredients & is just plain delicious! I have one in my bag at all times. A great option on busy days.
Delicious Natural Protein Bar
Combining 100% natural whole foods with a well-rounded blend of whey and collagen, the TRUE PROTEIN BAR was four years in the making to deliver the tastiest high-protein bar on the market, packed with flavour and nutritional benefits.
High in Protein
Our TRUE PROTEIN BAR boasts a high protein content per serving, derived from a well-balanced blend of collagen and whey protein concentrate to support lean muscle growth and post-workout recovery.
Whole Food Ingredients
The TRUE PROTEIN BAR contains a unique blend of clean, healthy whole foods including almonds, dates, chia seeds and Himalayan pink salt for the perfect flavour, texture and nutritional benefits.
Complete Amino Acid Profile
The TRUE PROTEIN BAR includes both whey protein concentrate and collagen to provide a complete amino acid profile vital for functions including muscle protein synthesis, tissue repair and nutrient absorption.
Good for the Gut
Made from both soluble and insoluble fibre, the TRUE PROTEIN BAR will help keep your digestive system healthy and leave you feeling fuller for longer.
Premium Flavour
Not all protein bars are made equal, which is why we took four years to develop ours. We have tried, tested and perfected a recipe that is as delicious as it is nutritious, boasting a soft, chewy texture and rich taste.
Convenient Snack
Whether you want a post-workout snack or mid-afternoon pick-me-up, the TRUE PROTEIN BAR is the ultimate on-the-go healthy treat, individually wrapped for your convenience.
Reviews + Questions
Customer Reviews
Write a Review
Ask a Question
Filter Reviews:
protein bars
bars
taste
snack
ingredients
texture
flavour
caramel
chocolate
cream
05/12/2023
Carmilla

Australia
My favourite! ❤️ them!! Juicy, flavoursome. Just yum!!
04/12/2023
Mariajane

Australia
The best protein bar. Love the flavour and taste.
04/12/2023
Mariajane

Australia
The best protein bar. Love the flavour and taste.
01/12/2023
Kate L.

Australia
I recommend this product
Delicious
Cookies & cream is my favourite flavour. These bars are a great snack, very filling.
26/11/2023
Gerhard

Australia
Great quality, clean nutrition in the go. Tastes great too. A bit expensive, would be good to get the cost closer to $4 per bar. Maybe when True gets more well deserved business from Aussies the margins can get tighter.
FAQs
What are the benefits of True Protein Bars?

100% natural with general health benefits – nothing artificial, no added sugar Super high in protein – between 14.3 and 17.6g of protein per bar depending on the flavour
Full ingredients list available with benefits of each ingredient
Available in 4 mouth-watering flavours
Features non-GMO and certified organic ingredients wherever possible
True only use the best quality raw ingredients, including New Zealand-produced whey, sourced from around the world
When is the best time to eat a True Protein Bar?

True Protein Bars are super convenient and can easily be thrown into your bag to consume at any time throughout the day. Whether that is a quick breakfast on the go, a snack to tide you over, a pre or post workout protein fix or to satisfy your afternoon sweet tooth, our True Protein Bars are great.
Who should consider purchasing True Protein Bars?

True Protein Bars are a great, nutritious addition to anyone's diet. Whether you're an avid gym-goer or you're just trying to up your protein intake, these bars are a perfect option to buy online. Keep in mind, however, that these bars are not suitable for vegans or vegetarians. True Protein Bars offer a great alternative for those who do not enjoy protein powders or find shakes inconvenient. With each flavour packing in over 14g protein per bar, they are a no-brainer when it comes to upping your intake on the go.
How are True Protein Bars different?

A lot of protein bars tend to be high in sugar and made with unwanted artificial ingredients, while most all natural bars end up tasting awful. The True Protein Bars are full of wholefoods that will fill your body with goodness all while tasting great and making sure you get that protein fix.
Are True Protein Bars good for weight loss or weight gain?

Protein bars can help with both weight loss and weight gain! Protein bars help with weight loss as they fill you up with healthy wholefoods, curbing your appetite and preventing you from overeating. On the other hand, True Protein Bars are calorie-dense, with around 230 calories per bar. They can be consumed between meals to increase your calorie intake which can promote healthy weight gain.
Are True Protein Bars high in sugar?

The True Protein Bars contain no added sugar, with only 7.4-7.9g of sugar per bar, which comes purely from dates. The amount of sugar depends on the flavour, yet all bars are similar in sugar content.
Is a True Protein Bar good for you?

True Protein Bars are made from 100% natural whole foods. The bars are sweetened only with fibre-rich dates with no added sugar, and provides you with a number of vitamins, minerals, nutrients and of course, protein. This is just one of the reasons why True Protein Bars are one of Australia's favourite protein snacks.
Are they suitable for vegans and vegetarians?

True Protein Bars are not suitable for vegans or vegetarians as they contain Whey Protein Concentrate which is a component of dairy milk and hydrolysed collagen derived from bovine.
What is the shelf life?

True Protein Bars should be stored in a cool, dry place. Check the individual wrapping for the exact best before date.
Enjoy up to two bars per day as part of a healthy balanced diet. True Protein recommends as a guideline consuming 1.5g-2g protein per kilogram of body weight. This recommendation is based on the assumption that your goals are to build lean muscle mass and enhance post-workout recovery. For example, a person that weighs 80kg can consume approx. 120g-160g of protein per day. We recommend that you fulfill this quota through a combination of whole foods and protein supplementation..
Features
Nutritionals
Ingredients:
| | |
| --- | --- |
| Ingredients | Organic soluble fibre (tapioca IMO), Almonds, Dates, Whey protein concentrate (NZ), Hydrolysed bovine collagen peptides, Tahini (ground sesame seeds), Natural cocoa (2%), Chia seeds, Natural chocolate flavours, Organic extra virgin coconut oil, Himalayan pink salt. |
| Allergens | Contains: Tree nuts (almonds), dairy and sesame. Made on equipment that manufactures products containing peanuts, other tree nuts, soy and sulphites. Product may contain occasional shell or pit pieces. |
Nutritional Information:
| | | |
| --- | --- | --- |
| RICH CHOCOLATE | PER 63G SERVE | PER 100G |
| Energy | 951kJ (227 Cal) | 1510kJ (361 Cal) |
| Protein | 17.2g | 27.3g |
| Fat, total | 10.1g | 16.0g |
| - Saturated | 1.5g | 2.4g |
| Carbohydrates | 8.5g | 13.5g |
| - Sugars | 7.6g | 12.0g |
| Dietary Fibre | 11.4g | 18.1g |
| Sodium | 84mg | 134mg |
| Gluten | nil detected | nil detected |