HASTA Plant Protein
Product key benefits
HASTA certified blend
Delicious taste & smooth texture
Natural protein
Skip to product information
Ingredients

Plant Proteins (78%) (Australian Yellow Pea Protein, Australian Faba Bean protein, Organic Pumpkin protein from The Netherlands), Natural Cocoa, Natural Flavours, Organic Coconut MCT Powder (3%), Himalayan Pink Rock Salt, Digestive Enzyme Blend (0.3%), Natural sweeteners (Monk fruit extract, Organic Steviol glycosides and Thaumatin), Bacillus coagulans (0.1%) Product includes 48% Australian Yellow Pea Protein, 20% Australian Faba Bean protein, 10% Organic Pumpkin protein.

Allergens

Packed in a facility that handles dairy products and nuts.

Nutirional Information

| | | |
| --- | --- | --- |
| RICH CHOCOLATE | PER 30G SERVE | PER 100G |
| Energy | 519kJ (124Cals) | 1730kJ (413Cal) |
| Protein | 20g | 65g |
| - Gluten | Nil detected | Nil detected |
| Fat, total | 3.6g | 12.1g |
| - Saturated | 1.5g | 4.9g |
| Carbohydrates | 2.3g | 7.6g |
| - Sugars | 0.6g | 2.1g |
| - Lactose | Nil detected | Nil detected |
| Dietary fibre | 1.7g | 5.7g |
| Sodium | 119mg | 398mg |
| Bacillus coagulans | 1 billion CFU | 3.33 billion CFU |
| Protease | 36mg | 120mg |
| Amylase | 9mg | 30mg |
| Cellulase | 3mg | 10mg |
| Lipase | 9mg | 30mg |
| Lactase | 3mg | 10mg |
Free Shipping Over $99
Australian Made
Money Back Guarantee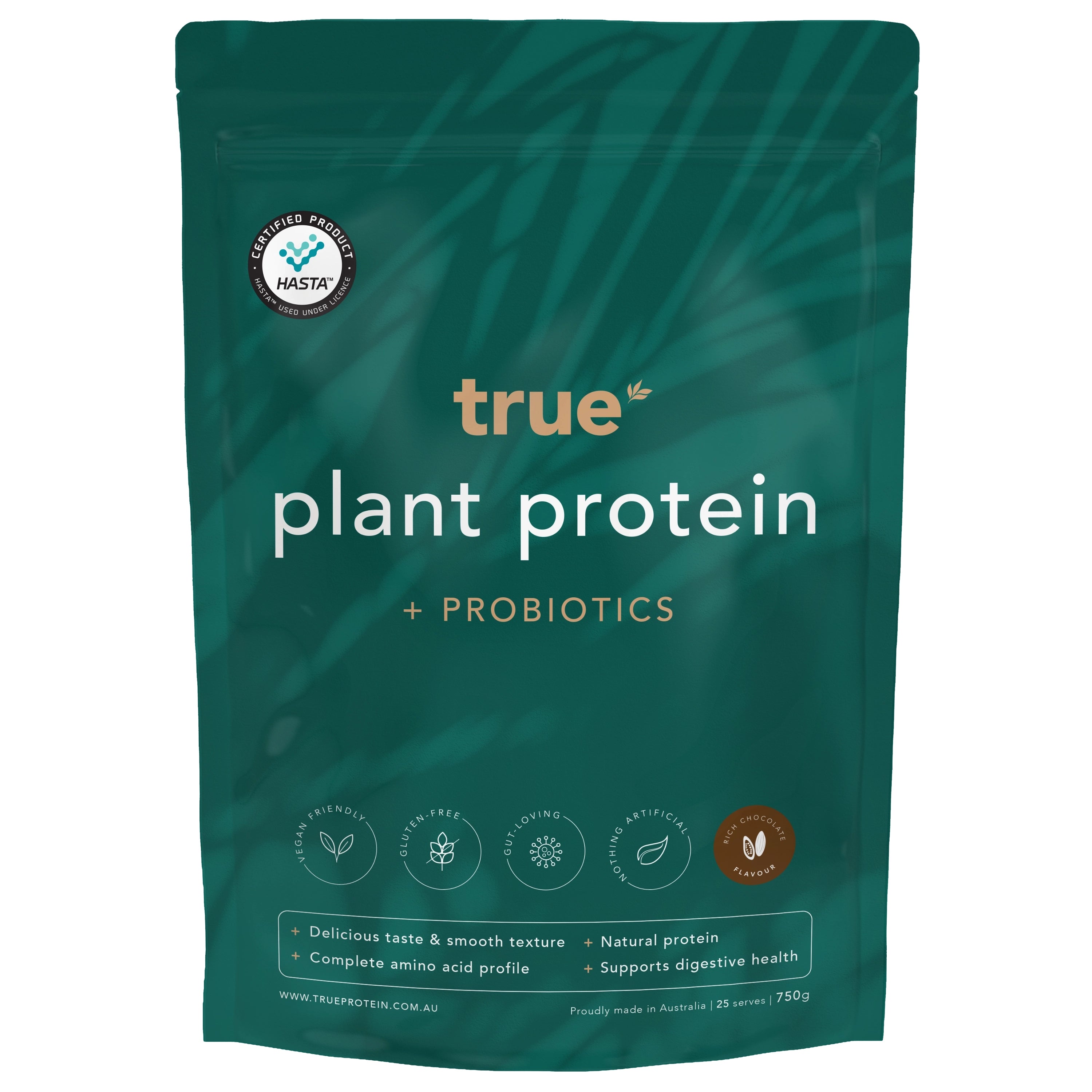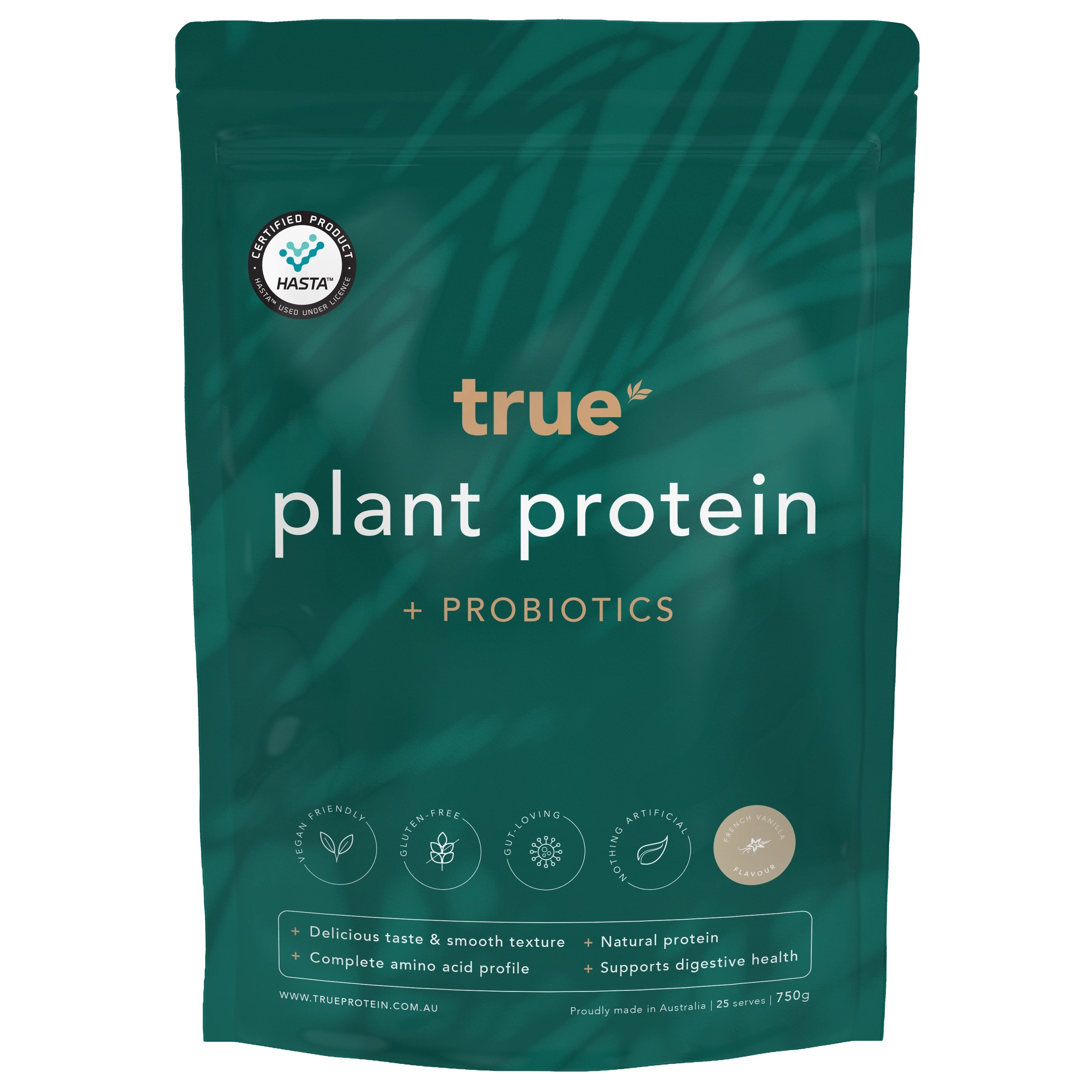 The Next Generation of Plant Protein is Here
True Plant Protein is a triple blend of Australian yellow pea, Australian faba bean and organic pumpkin seed proteins. Plus, we've added probiotics and digestive enzymes for enhanced absorption. The end result is a complete protein source that's deliciously smooth, natural, and entirely vegan-friendly.
Rich Taste, Smooth Texture
Plant Protein represents the next generation of plant-based protein. With full-bodied taste and amazing mixability, it's delicious with water alone.
Supports Digestive Health
Clinically proven doses of probiotics & digestive enzymes maintain regularity, stimulate the gut microbiome and restore digestive health.
Non-Bloating Formula
Plant Protein is easy on the tummy, making it the perfect alternative for those who experience intolerance to dairy, nuts, gluten, soy or egg.
100% Plant Based
Ingredients in True Plant Protein are entirely free from animal origin, making it ideal for those who choose a vegan lifestyle or are looking to reduce their animal product consumption.
Full Amino Acid Profile
Unlike singular-source plant proteins, True Plant Protein boats a full-spectrum amino acid profile to support lean muscle development, recovery and a healthy immune system.
Nothing Artificial
Made with only the finest quality raw ingredients: no artificial colours, flavours, sweeteners or fillers.
Reviews + Questions
Customer Reviews
Write a Review
Ask a Question
Filter Reviews:
athlete
Hasta
solubility
books
Probiotics
program
team
reaction
benefit
options
20/10/2023
Lia W.

Australia
I recommend this product
really nice
super smooth + rich
31/08/2023
Tanya H.

Australia
I recommend this product
True Protein
My son has alleges, and is also an athlete, this product in excellent for him, no reaction to the product and he feels he gets the benefit in recovery.
23/05/2023
Kevin B.

Australia
I recommend this product
Hasta Plant Protein
Team enjoyed the protein. For us, it's key to have plant based options that the team will actually enjoy using. It provides us with what we need as a team. The company has been very supportive for our program.
Thanks Kevin! So happy to be able to support you and the Team. - True Team.
26/04/2023
Kelly R.

Australia
I recommend this product
Very rich!
Better solubility compared to the old HASTA VEGAN 85. The rich chocolate flavour is almost tooooo rich for a full protein shake, delicious though. Love the use of probiotics!
Thanks for your feedback, Kelly. We're so glad you're enjoying our new Plant Protein! - Tahls, True Team
13/04/2023
Hannah M.

Australia
I recommend this product
All rounder
As an athlete, I need to have HASTA certified products. I also look to minimise animal-based products where I can. I also love good and things that taste good. So this is a winner in my books.
Thanks so much, Hannah! - True Team
FAQs
What are the differences between is the difference between HASTA Plant Protein and Plant Protein?

Our HASTA range has been independently batch tested for WADA prohibited substances. HASTA formulas are best for athletes who may be drug tested and are looking for added peace of mind when consuming performance-enhancing supplements.
Where are the proteins in Plant Protein sourced from?

True Plant Protein is made with Australian yellow pea and faba bean proteins sourced from Victorian farms. Governed under some of the highest standards of farming in the world, this plant protein is produced without the use of solvents or enzymes. The end result is a 'clean', soluble and high quality powder. Our organic pumpkin seed protein is sourced from one of the worlds finest suppliers in the Netherlands.
Features
Nutritionals
Ingredients:
Ingredients

Plant Proteins (78%) (Australian Yellow Pea Protein, Australian Faba Bean protein, Organic Pumpkin protein from The Netherlands), Natural Cocoa, Natural Flavours, Organic Coconut MCT Powder (3%), Himalayan Pink Rock Salt, Digestive Enzyme Blend (0.3%), Natural sweeteners (Monk fruit extract, Organic Steviol glycosides and Thaumatin), Bacillus coagulans (0.1%)

Product includes 48% Australian Yellow Pea Protein, 20% Australian Faba Bean protein, 10% Organic Pumpkin protein.

Allergens
Packed in a facility that handles dairy products and nuts.
Nutritional Information:
| | | |
| --- | --- | --- |
| RICH CHOCOLATE | PER 30G SERVE | PER 100G |
| Energy | 519kJ (124Cals) | 1730kJ (413Cal) |
| Protein | 20g | 65g |
| - Gluten | Nil detected | Nil detected |
| Fat, total | 3.6g | 12.1g |
| - Saturated | 1.5g | 4.9g |
| Carbohydrates | 2.3g | 7.6g |
| - Sugars | 0.6g | 2.1g |
| - Lactose | Nil detected | Nil detected |
| Dietary fibre | 1.7g | 5.7g |
| Sodium | 119mg | 398mg |
| Bacillus coagulans | 1 billion CFU | 3.33 billion CFU |
| Protease | 36mg | 120mg |
| Amylase | 9mg | 30mg |
| Cellulase | 3mg | 10mg |
| Lipase | 9mg | 30mg |
| Lactase | 3mg | 10mg |
Amino Acid Profile:
| | | |
| --- | --- | --- |
| Amino Acid (Natural) | Per 30g | Per 100g |
| Essential | | |
| Isoleucine | 1.0g | 3.4g |
| Leucine | 2.1g | 6.8g |
| Lysine | 1.8g | 6.0g |
| Methionine | 0.3g | 0.9g |
| Phenylalanine | 1.3g | 4.3g |
| Threonine | 1.1g | 3.6g |
| Tryptophan | 0.2g | 0.7g |
| Valine | 1.2g | 4.1g |
| Non-Essential | | |
| Histidine | 0.7g | 2.2g |
| Alanine | 1.2g | 4.2g |
| Arginine | 2.1g | 7.1g |
| Aspartic Acid | 3.5g | 11.5g |
| Cysteine | 0.3g | 1.1g |
| Glutamic Acid | 4.9g | 16.3g |
| Glycine | 1.2g | 4.0g |
| Proline | 1.2g | 3.9g |
| Serine | 1.4g | 4.8g |
| Tyrosine | 1.0g | 3.4g |