HASTA WPI 90
products.product.featured_review_caption
Everything from the packaging, the scoop, the taste and consistency of this product is superb. Easy to use, tastes delightful and quality ingredients utilised.
Product key benefits
Best option for shredding or weight loss
Enhances muscular recovery
Only trace fat, lactose and carbohydrate
Skip to product information
Ingredients

Whey protein isolate (95%)(Milk), Organic inulin, Natural flavours, Emulsifier (Sunflower lecithin), Banana powder (0.5%), Manuka honey powder (0.5%), Vegetable gum, Natural sweetener (Organic steviol glycosides).

Allergens

Contains milk. Produced in a facility that handles nuts.

Nutirional Information

| | | |
| --- | --- | --- |
| BANANA & HONEY | PER 30G SERVE | PER 100G |
| Energy | 459kJ (111Cal) | 1530kJ (366Cal) |
| Protein | 25g | 85g |
| Fat, total | 0.3g | 1g |
| - Saturated | 0.3g | 1g |
| Carbohydrates | 0.9g | 3.0g |
| - Sugars | 0.6g | 1.9g |
| Dietary fibre | 0.7g | 2.5g |
| Sodium | 39mg | 129mg |
| Calcium | 121mg | 404mg |
| Lactose | 0.3g | 1.1g |
| Gluten | nil detected | nil detected |
Free Signature Crew Socks
Ends 17.12.23. Spend a minimum of $150
Free Shipping Over $99
Australian Made
Money Back Guarantee
This flavour does not contain a scoop.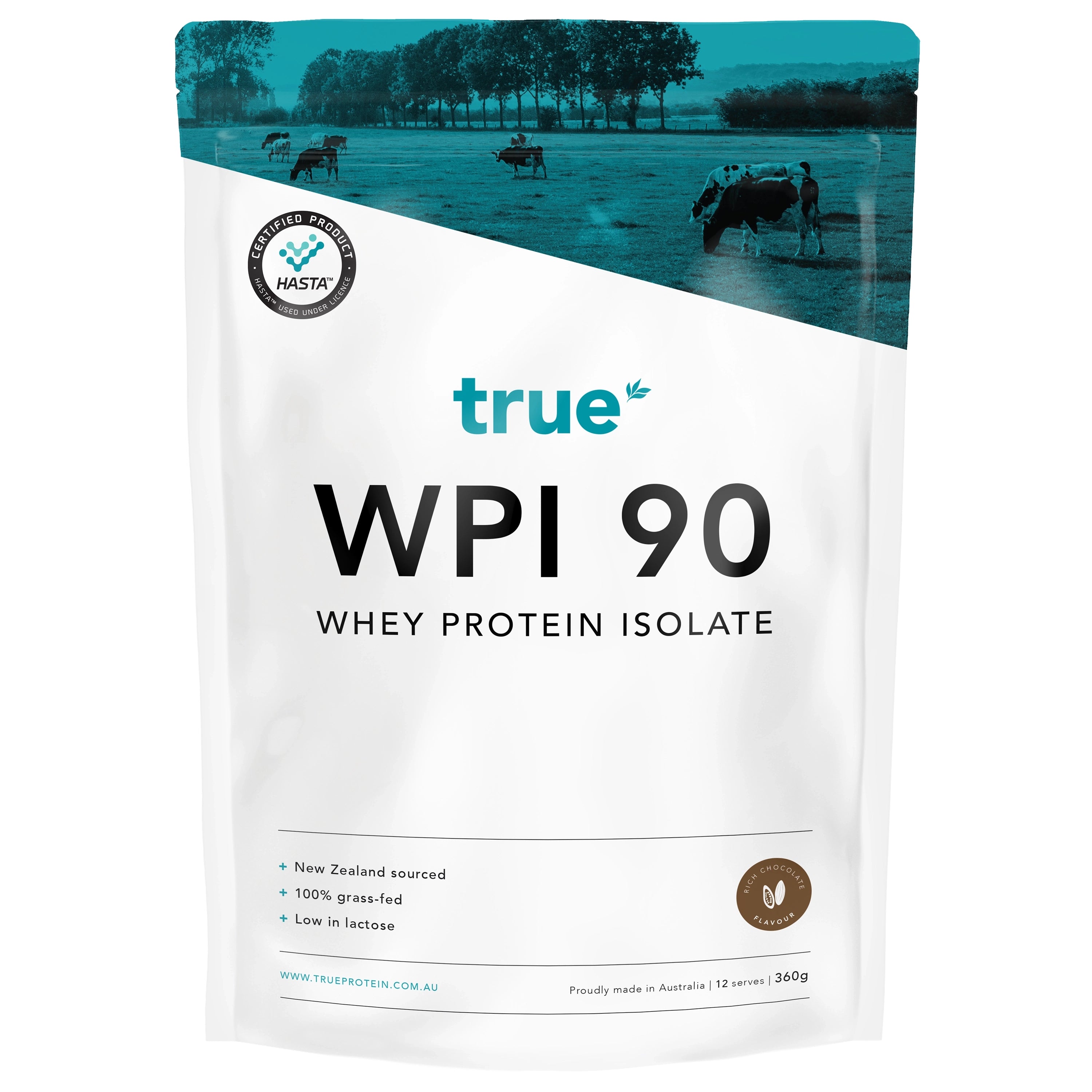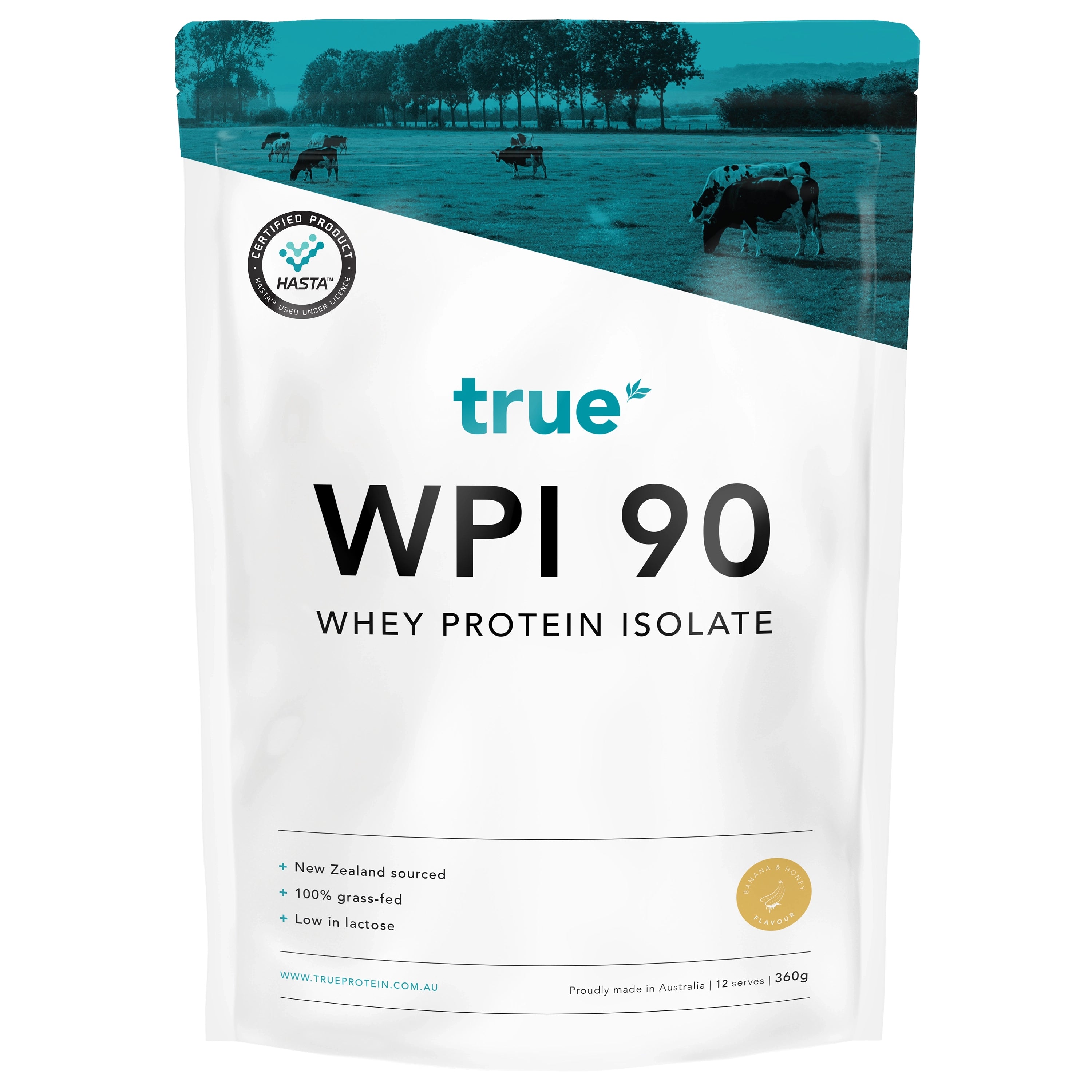 Everything from the packaging, the scoop, the taste and consistency of this product is superb. Easy to use, tastes delightful and quality ingredients utilised.
First Class Protein
Blended with NZ grass-fed whey protein isolate, natural flavourings and without unnecessary fillers, True Premium Whey Isolate is your first choice for lean muscle development and weight management. Savour the clean taste, pure quality and high protein content that makes it easy to digest in shakes, smoothies or as a protein-boost in recipes.
Leading Manufacturing Processes
Our whey protein isolate is manufactured through a combination of both cross flow micro-filtration (MF) and ultra-filtration (UF) to provide an extremely pure and refined protein.
Less Than 1% Carbs/Sugar
The carbohydrates and lactose that are present in normal whey protein are removed in an isolate protein, making it one of the purest proteins in our range.
High in Protein
Whey protein isolate has one of the highest protein contents of any known substance to man. In natural form it boasts 90%+ protein content making it ideal for supporting lean muscle growth.
Fast Digesting
The bioavailability of whey protein isolate means it is quickly digested by the body to provide essential amino acids for fuel or recovery.
New Zealand Sourced
Not all protein powders are made equally, NZ proteins are considered the best in the world due to industry leading livestock processes and strict government regulations.
Rich Amino Acid Profile
Whey protein isolate contains a complete amino acid profile for rebuilding muscle and providing vital nutrition for the body.
Achieve Your Goals
Muscle Gain & Performance
Ensuring your body receives a regular supply of protein is essential for supporting lean muscle growth. Protein consists of amino acids which are the building blocks of muscle and allow us to build, repair and maintain muscle tissue.
Building muscle mass essentially involves the process of lifting heavier weights, tearing the muscle fibres and then rebuilding them stronger and bigger and this is where regular protein intake comes in. Current research indicates roughly 2.2g of protein per kg of body weight is required for building muscle. For an 80kg male this equates to 176g/day which equates to roughly 30g-40g per meal spread over 5 meals.
Protein can be attained from a wide range of wholefood sources such as fish, chicken, and beef as well as non-animal sources such as quinoa, green peas and nuts. Protein can also be attained in supplement form, most commonly in powders such as whey protein powder, pea protein powder or rice protein powder. These powders allow for a convenient way to add additional protein calories into your daily diet and assist with muscle building needs.
Faster Recovery
Energy Boost
Muscle Growth
Weight Loss & Toning
The lowest calorie way to consume protein is in a protein shake. Products such as Whey Protein Isolate have extremely low levels of carbs and fats, meaning the calories you consume are virtually pure protein. If you're looking to minimise your caloric intake and burn any excess fat, a high protein diet is a must. Not only will a high protein diet ensure your body draws its energy from excess fat stores, it'll also make sure you don't feel hungry and crave unplanned cheat meals.
Nevertheless, we wouldn't advise you rely on protein powder as your only source of protein. Rather it should be used to supplement a well-rounded diet.
Supports weight management
Low Carb Shake
Ideal for high protein diets
Reviews + Questions
Customer Reviews
Write a Review
Ask a Question
Filter Reviews:
taste
flavour
protein powder
smoothies
athlete
True
recovery
water
WPI 90
yoghurt
27/11/2023
Myles C.

Australia
I recommend this product
Amazing!
The taste of this protein powder is unlike anything I have ever had before! It tastes exactly like a banana milkshake, which is one of my absolute favourite flavours. I am a huge fan, and have purchased this product for a second and third time again already.
17/11/2023
Ella R.

Australia
I recommend this product
Protein review
Very good product, so much less hassle knowing it's hasta approved but really wish there was more flavours available for those hasta reviewed
Hi Ella, thank you for your great feedback. We have passed this on to our team for further consideration. - True team
06/11/2023
Paige D.

Australia
I recommend this product
WPI 90
It is a fantastic product, highly recommend. Kind on your stomach, great flavour and is one of the best protein powders available.
25/10/2023
Laura R.

Australia
I recommend this product
Love it
Exactly what I wanted
24/10/2023
Jolie S.

Australia
I recommend this product
WPI 90
Absolutely love this protein powder. I am an elite athlete so having access to something that is HASTA approved and also tastes amazing is life changing for me.
FAQs
What are the differences between is the difference between HASTA WPI90 and WPI90?

Our HASTA range has been independently batch tested for WADA prohibited substances. HASTA formulas are best for athletes who may be drug tested and are looking for added peace of mind when consuming performance-enhancing supplements.
Why have you chosen New Zealand whey protein powder for your formulas?

New Zealand protein is widely regarded as the best available in the market, and superior to Australian and North American equivalents. The livestock processes are of much higher standards and involve the cattle being exclusively grass-fed and exempt from hormone use. Bottom line, this leads to a higher quality raw material with exceptional mixability and taste in the finished product.
How is True HASTA WPI90 flavoured?

We have opted to use stevia to sweeten our flavoured proteins. Stevia is derived naturally from a plant grown in South America and is around 200-300 times sweeter than sugar. We therefore only need very small quantities of this naturally produced sweetener to flavour our protein powders. Our in-house development team has pushed the boundaries of natural flavouring to develop completely unique flavours that contain no artificial ingredients or additives whilst maintaining a fantastic natural taste. Every flavour is made using 100% natural ingredients including the likes of real vanilla, freeze-dried fruits, natural cocoa, organic desiccated coconut and manuka honey.
Suggested Use
Add 1 Large TP Scoop (30g) to 150ml-200ml of liquid of your choice. Shake and consume. Consume 1-3 servings daily or as required.


True Protein recommends as a guideline 1.5 to 2 grams of protein per kilogram of bodyweight. This recommendation is based on the assumption that your goals are to build lean muscle and enhance recovery. This translates to an 80kg person taking roughly 120g to 160g of protein per day. We recommend that you fulfil this quota through a combination of wholefoods and protein supplementation.
Features
Nutritionals
Ingredients:
| | |
| --- | --- |
| Ingredients | Whey protein isolate (95%)(Milk), Organic inulin, Natural flavours, Emulsifier (Sunflower lecithin), Banana powder (0.5%), Manuka honey powder (0.5%), Vegetable gum, Natural sweetener (Organic steviol glycosides). |
| Allergens | Contains milk. Produced in a facility that handles nuts. |
Nutritional Information:
| | | |
| --- | --- | --- |
| BANANA & HONEY | PER 30G SERVE | PER 100G |
| Energy | 459kJ (111Cal) | 1530kJ (366Cal) |
| Protein | 25g | 85g |
| Fat, total | 0.3g | 1g |
| - Saturated | 0.3g | 1g |
| Carbohydrates | 0.9g | 3.0g |
| - Sugars | 0.6g | 1.9g |
| Dietary fibre | 0.7g | 2.5g |
| Sodium | 39mg | 129mg |
| Calcium | 121mg | 404mg |
| Lactose | 0.3g | 1.1g |
| Gluten | nil detected | nil detected |
Amino Acid Profile:
| | | |
| --- | --- | --- |
| Amino Acids - Banana & Honey | 30g Serve | Per 100g |
| Essential | | |
| Isoleucine | 1.8g | 6.1g |
| Leucine | 2.9g | 9.6g |
| Lysine | 2.6g | 8.7g |
| Methionine | 0.6g | 2.0g |
| Phenylalanine | 0.8g | 2.8g |
| Threonine | 1.9g | 6.3g |
| Tryptophan | 0.5g | 1.6g |
| Valine | 1.6g | 5.4g |
| Non-essential | | |
| Histidine | 0.5g | 1.5g |
| Alanine | 1.4g | 4.7g |
| Arginine | 0.6g | 2.0g |
| Aspartic Acid | 2.9g | 9.6g |
| Cysteine | 0.7g | 2.5g |
| Glutamic Acid | 4.8g | 16.1g |
| Glycine | 0.5g | 1.6g |
| Proline | 1.6g | 5.4g |
| Serine | 1.3g | 4.3g |
| Tyrosine | 0.9g | 2.9g |