HASTA Pre
Product key benefits
Natural & clean ingredients
Powerful ingredients in effective doses
No artificial colours, flavours or sweeteners
Skip to product information
Ingredients

Creatine monohydrate, L-Citrulline, Citrulline malate, Betaine, Taurine, Beta alanine, L-Tyrosine, Natural dlavours, Magnesium citrate, Green caffeine bean extract, Natural sweeteners (Organic steviol glycosides, Monk fruit extract, Thaumatin), Organic matcha, Ascorbic acid, Natural colours (Derived from Gardenia)

Disclaimer

This product contains caffeine which is extremely effective in small doses. No more than two serves (20g) to be taken daily. It is recommended that a half or one serve (5-10g) is taken first to assess tolerance.

Allergens

Produced in a facility that handles dairy products and nuts.

Nutirional Information

| | | | |
| --- | --- | --- | --- |
| LEMON TWIST | PER 10G SERVE | PER 20G SERVE | PER 100G |
| Energy | 8kJ (2 Cal) | 18kJ (4 Cal) | 84kJ (20 Cal) |
| Protein | >0.1g | >0.1g | 0.2g |
| Fat, total | >0.1g | >0.1g | >0.1g |
| - Saturated | >0.1g | >0.1g | >0.1g |
| Carbohydrates | 0.3g | 0.8g | 3.2g |
| - Sugars | >0.1g | >0.1g | 0.6g |
| Dietary fibre, total | >0.1g | >0.1g | 0.5g |
| Sodium | >0.1mg | >0.1mg | 2mg |
| Beta Alanine | 1000mg | 2000mg | 10000mg |
| Betaine | 1000mg | 2000mg | 10000mg |
| Caffeine | 100mg | 200mg | 1000mg |
| Creatine Monohydrate | 2500mg | 5000mg | 25000mg |
| L-Citrulline & Citrulline Malate | 3000mg | 6000mg | 30000mg |
| Magnesium | 39mg (12% RDI) | 77mg | 387mg |
| Tyrosine | 550mg | 1100mg | 5500mg |
| Taurine | 1000mg | 2000mg | 10000mg |
| Vitamin C | 50mg (125% RDI) | 100mg | 500mg |
Free Shipping Over $99
Australian Made
Money Back Guarantee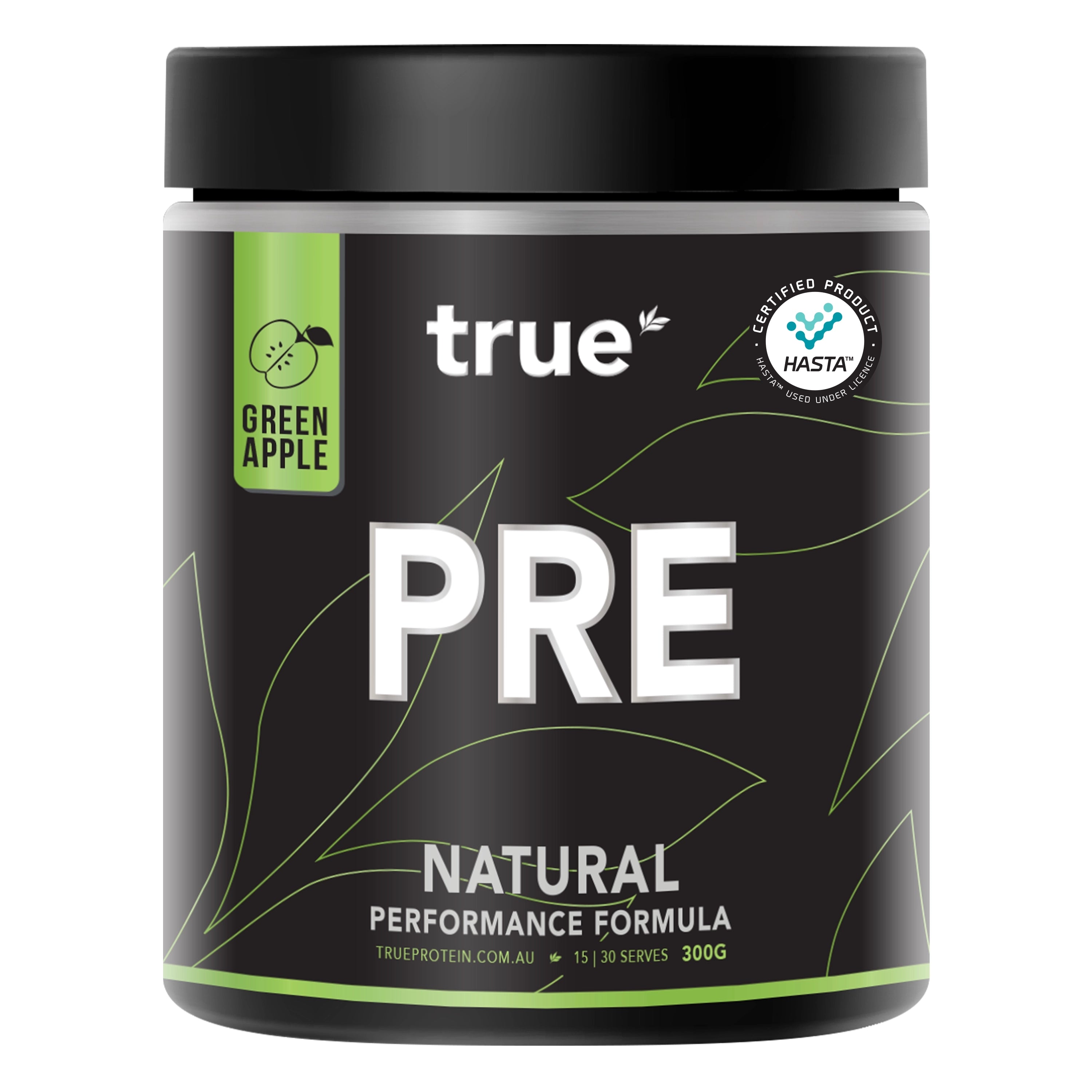 Unlock a new level of workout performance
Featuring a streamlined formula for a smaller serving size, delicious taste, smooth texture, customisable dosage and sleek stainless-steel tin, True Pre is the next generation in True performance.
Scientifically Backed
Streamlined formula with intentional dosages of specialised amino acids, vitamins and natural caffeine carefully selected to deliver results.
Clean formula
Featuring intentional, premium ingredients with no artificial colours, flavours, fillers or synthetic caffeine.
Customisable dose
Whether you prefer an everyday boost or need an extra kick for intense sessions, choose between a 10g or 20g serving to match your desired intensity and tailor the experience to your needs.
No post-workout crash
True Pre is free from synthetic stimulants, using only natural caffeine to ensure no jitters and no mid-morning energy crash.
Premium Packaging
True Pre comes in a sleek and durable stainless still tin and its own steel scoop, making it perfect to throw in your gym bag.
Maximise performance
The powerful amino acids in Pre optimise a range of functions such as focus, stamina and intensity that will help maximise your workout performance.
Reviews + Questions
Customer Reviews
Write a Review
Ask a Question
Filter Reviews:
energy
pre workout
taste
flavour
True
level
crash
session
packaging
lemon twist
27/11/2023
Red D.

Australia
I recommend this product
Quality Pre.
Amazing pre workout, tastes amazing, lots of last energy and I didn't experience any jitters that I have had with other pre workouts before.
27/11/2023
Bianca

Australia
Prefer the apple flavour, but good pre
27/11/2023
Bianca

Australia
Good flavour, gives a boost of energy without the jittery/sick feeling from other Pre's
27/11/2023
Bianca
Good flavour, gives a boost of energy without the jittery/sick feeling from other Pre's
27/11/2023
Bianca
Prefer the apple flavour, but good pre
FAQs
What is True Pre?

True Pre is a pre-workout supplement designed to help the body switch on and prepare for the workout ahead. Designed to optimise performance, True Pre is known to increase energy levels, enhance endurance, and improve strength. True Pre is suitable for Vegans.
What are the benefits of taking True Pre before a gym session?

Often individuals focus solely on their post-workout nutritional requirements without considering how they are fuelling their body prior to working out. Ensuring your body has enough fuel to train is integral to receiving the best results, especially if you are training at a high intensity. True Pre is a convenient way to provide your muscles with the fuel they need to perform at their best, improve your focus and lift your energy for a great session. As a product often prescribed by sports dietitians, pre-workout supplementation is a proven way improve performance.
What ingredients are in the True Pre?

True Pre includes a number of premium, all natural amino acids and vitamins to support workout performance. True Pre is made from L-Citrulline & Citrulline malate, Creatine monohydrate, Beta alanine, Taurine, Betaine, L-Tyrosine, natural caffeine, magnesium, Vitamin C and natural flavours.
In which cases would I take the double serve?

For the everyday athlete, a 10g serve of True Pre will provide effective results for your workout. However, you may like to double the dose for days when you need an extra boost, if you have a high tolerance to pre workout, or if you are a high-performance athlete.
Are there any side effects of taking the True Pre?

When taking both True Pre with and without caffeine, individuals are likely to feel a slight tingling feeling, similar to pins and needles, throughout their body. This feeling is completely normal and is due to the beta alanine, a non-essential amino acid that is known the assist lean muscle growth and increase energy levels.

Caffeine is also known to cause a range of side effects, especially to those that are sensitive to it. These can include elevated heart rate, restlessness and stomach upset. In large doses True Pre might cause headaches and agitation. While these side effects are not harmful and should pass within an hour, we recommend starting with a smaller serving size to assess your tolerance to True Pre.
What is the difference between True Pre and True Post?

True Pre is designed to be taken roughly 30 minutes prior to training in order to prepare your body for the intense session to come. Contrastingly,

True Post

is a unique nine ingredient formula designed to replenish the body following high intensity training and assist with recovery. Both supplements work best when being used in conjunction with resistance training. If you are working out using resistance training regularly, we recommend taking True Pre prior to your workout and True Post at the conclusion of your workout. When taking both True Pre and True Post, supplements included in both blends such as creatine monohydrate do not need to be added.
Can I take True Pre with other supplements such as WPI90?

True Pre, like all True Protein products can be used with other supplements. As a pre-workout supplement, True Pre pairs well with the post workout options in the True Protein range, such as,

WPI90

,

ProDefine

,

True Post

and

Plant Protein

.
Is True Pre suitable for Vegans?

Yes, True Pre is suitable for vegans.
Can I take True Pre with a meal?

It is possible to take True Pre with a meal, however it is not advised. True Pre is best taken roughly 30 minutes prior to training, whereas any substantial meal should be consumed at least 60 minutes prior to training to avoid feeling lethargic and potentially unwell whilst training.
Suggested Use
Customise your dose to your desired intensity.
For an everyday boost, mix 10g (1 tbsp) with 150ml water and consume 30 min prior to your workout.
For performance sessions, mix 20g (2 tbsp) with 300ml water and consume 30 mim prior to your workout.
DO NOT CONSUME MORE THAN 2 SERVES (20G) DAILY
Key Tip: We strongly recommend storing your PRE in the fridge to maintain maximum freshness and lifespan.
Features
Nutritionals
Ingredients:
Ingredients
Creatine monohydrate, L-Citrulline, Citrulline malate, Betaine, Taurine, Beta alanine, L-Tyrosine, Natural dlavours, Magnesium citrate, Green caffeine bean extract, Natural sweeteners (Organic steviol glycosides, Monk fruit extract, Thaumatin), Organic matcha, Ascorbic acid, Natural colours (Derived from Gardenia)

Disclaimer

This product contains caffeine which is extremely effective in small doses. No more than two serves (20g) to be taken daily. It is recommended that a half or one serve (5-10g) is taken first to assess tolerance.

Allergens
Produced in a facility that handles dairy products and nuts.
Nutritional Information:
| | | | |
| --- | --- | --- | --- |
| LEMON TWIST | PER 10G SERVE | PER 20G SERVE | PER 100G |
| Energy | 8kJ (2 Cal) | 18kJ (4 Cal) | 84kJ (20 Cal) |
| Protein | >0.1g | >0.1g | 0.2g |
| Fat, total | >0.1g | >0.1g | >0.1g |
| - Saturated | >0.1g | >0.1g | >0.1g |
| Carbohydrates | 0.3g | 0.8g | 3.2g |
| - Sugars | >0.1g | >0.1g | 0.6g |
| Dietary fibre, total | >0.1g | >0.1g | 0.5g |
| Sodium | >0.1mg | >0.1mg | 2mg |
| Beta Alanine | 1000mg | 2000mg | 10000mg |
| Betaine | 1000mg | 2000mg | 10000mg |
| Caffeine | 100mg | 200mg | 1000mg |
| Creatine Monohydrate | 2500mg | 5000mg | 25000mg |
| L-Citrulline & Citrulline Malate | 3000mg | 6000mg | 30000mg |
| Magnesium | 39mg (12% RDI) | 77mg | 387mg |
| Tyrosine | 550mg | 1100mg | 5500mg |
| Taurine | 1000mg | 2000mg | 10000mg |
| Vitamin C | 50mg (125% RDI) | 100mg | 500mg |