HASTA Collagen
Product key benefits
High in protein, low in fat & carbs
Vitamin C for enhanced absorption
Supports bone, joint & tendon health
Skip to product information
Ingredients

Hydrolysed bovine collagen (Australian grass-fed) (85.2%), Natural cocoa powder, Organic inulin, Natural flavours, Ascorbic acid (Vitamin C) , Natural sweetener (Organic steviol glycosides).

Allergens

Produced in a facility that handles dairy products and nuts.

Nutirional Information

| | | |
| --- | --- | --- |
| RICH CHOCOLATE | PER 10G SERVE | PER 100G |
| Energy | 158kJ (38 Cal) | 1580kJ (378 Cal) |
| Protein | 8.4g | 83.6g |
| Gluten | nil detected | nil detected |
| Fat, total | 0.2g | 2.4g |
| - Saturated | 0.2g | 1.6g |
| Carbohydrates | 0.5g | 4.7g |
| - Sugars | 0.0g | 0.2g |
| Lactose | nil detected | nil detected |
| Dietary fibre, total | 0.6g | 6.2g |
| Sodium | 17mg | 174mg |
| Vitamin C | 50mg (125% RDI) | 500mg |
Free Signature Crew Socks
Ends 17.12.23. Spend a minimum of $150
Free Shipping Over $99
Australian Made
Money Back Guarantee
This flavour does not contain a scoop.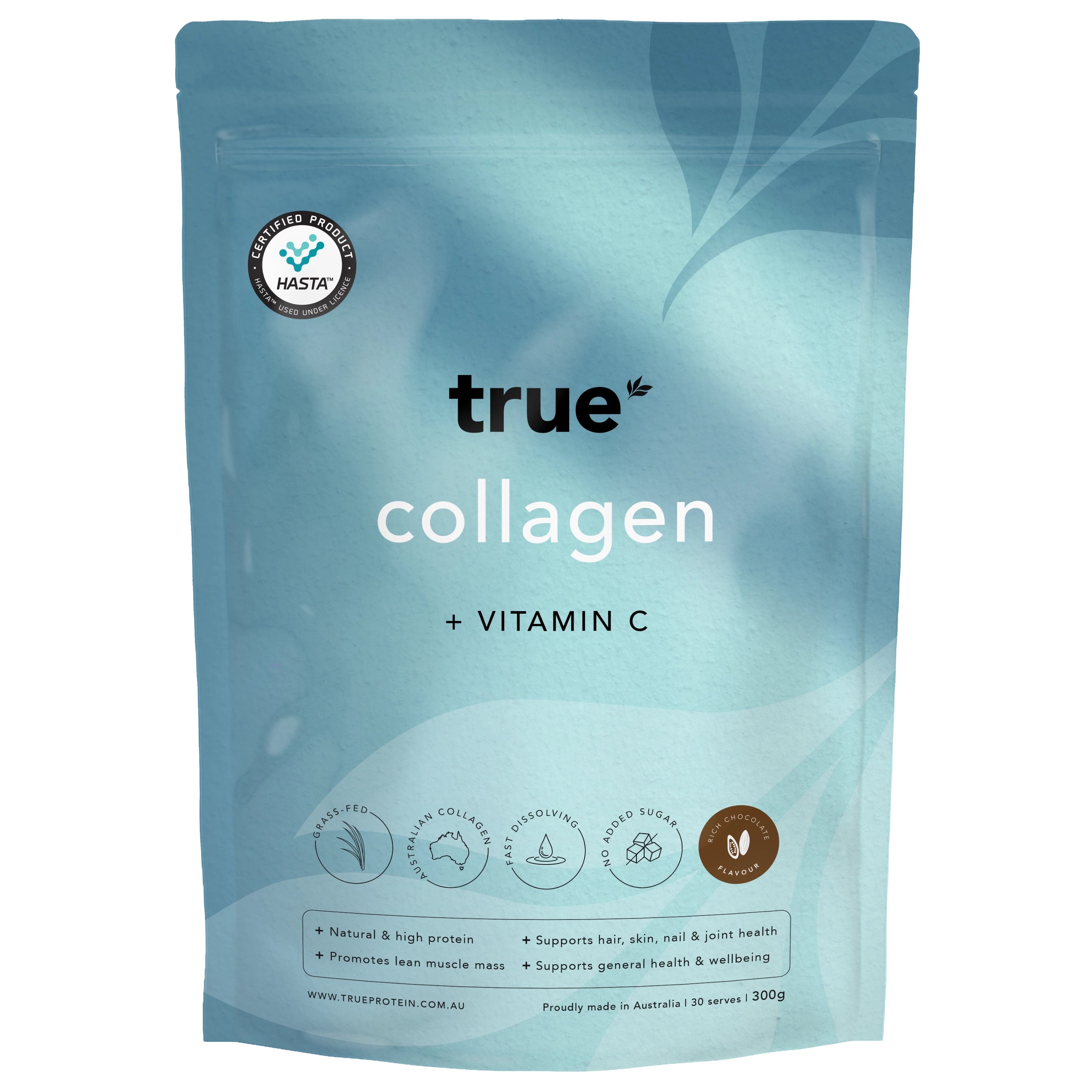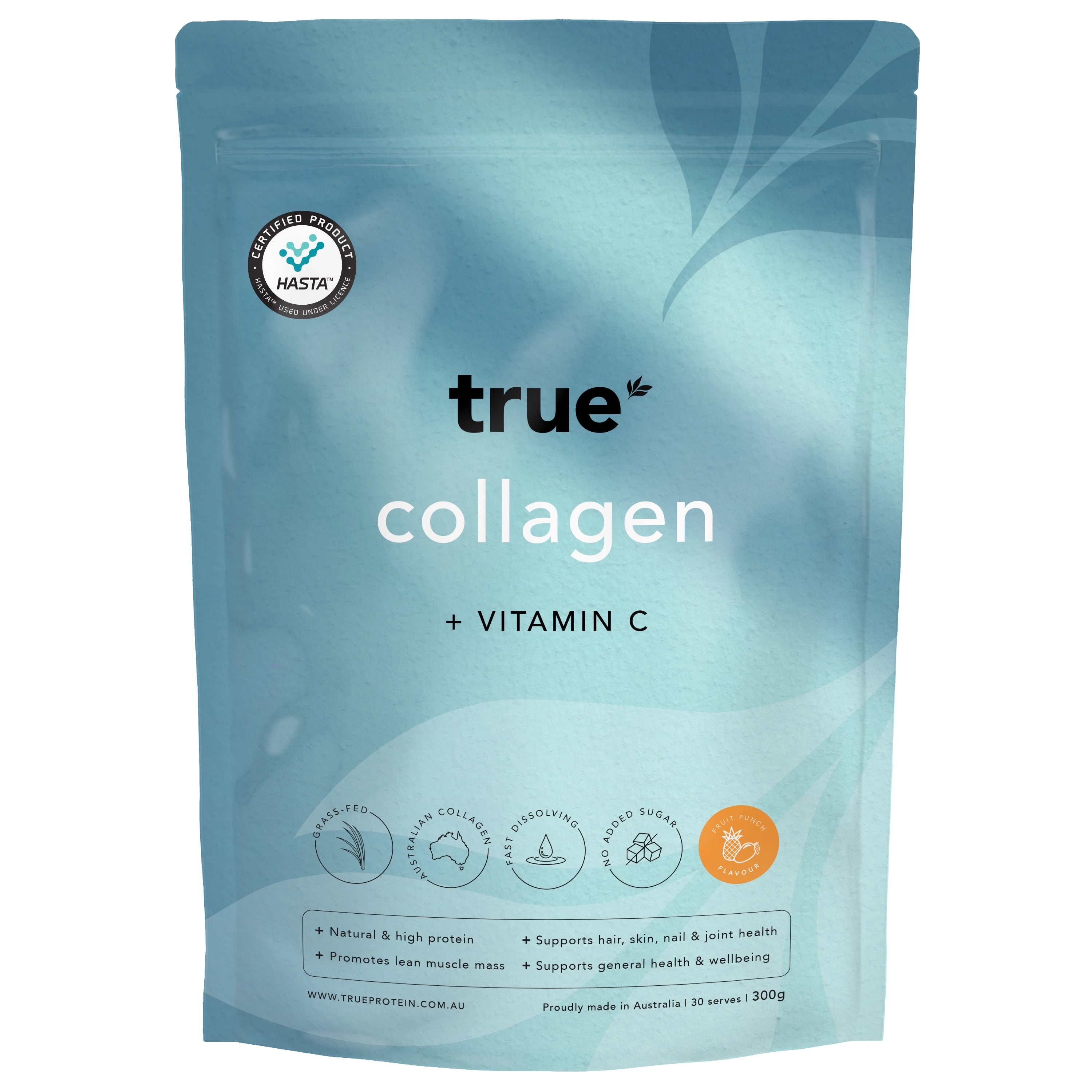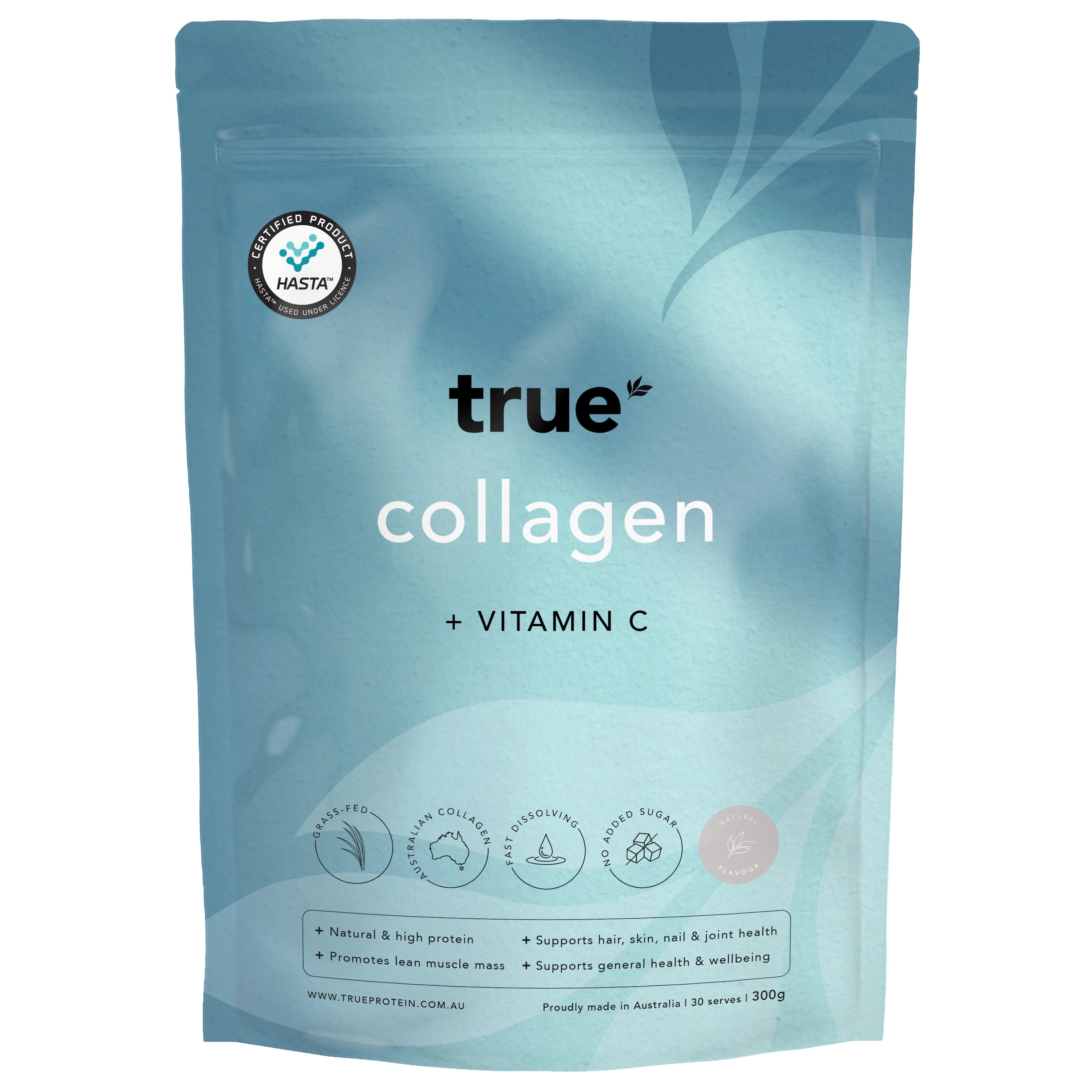 The All-Round Wellness Staple
Comprised of hydrolysed collagen peptides, True Collagen is a natural protein source that is both easily dissolvable and digestible. The addition of Vitamin C enhances collagen synthesis for optimal results.
High in Protein, Low in Calories
In its natural form, collagen is comprised of more than 95% protein, making it a concentrated source of protein that will have minimal impact on your energy intake.
Highly versatile
True collagen is a fine, non-gritty and heat stable powder, making it the perfect addition to countless drinks or recipes.
Supports muscle, joint and tendon health
Supplementing Collagen Contributes to abundant collagen formation for the healthy structure of cartilage, tendons, bones and muscle fibres.
Promotes lean muscle mass
Collagen is high in amino acids arginine and glycine, which support the synthesis of creatine, a building block of protein.
Promotes glowing skin, healthy hair, strong nails
Collagen contains a high concentration of amino acids shown to improve skin damage, circulation and protect cells from free radicals.
Rapid Absorption
Hydrolysed collagen is broken down into smaller molecules that are more easily absorbed by the body. Our grass-fed bovine collagen is sourced from the world's finest suppliers in Australia, ensuring a  high-quality product with superior bioavailability. 
Reviews + Questions
Customer Reviews
Write a Review
Ask a Question
Filter Reviews:
Love You True
skin hair
benefot
vitamin C
team
condition
Hasta
nails
drink
texture
21/08/2023
Kenia C.

Australia
I recommend this product
Amazing product
Love it so far. It dissolves well and tastes good
21/08/2023
Kenia C.

Australia
I recommend this product
Amazing product
Love it so far. It dissolves well and tastes good
10/08/2023
yola k.

Australia
I recommend this product
New colagen
im taking True products for the last 4months (proteins and collagen) I really like the texture and flavours and how friendly the powder is to prepare a drink. I have to add that my skin hair and nails are in a great condition and I know it is thank to this product Love You True and true team
13/07/2023
Arnott, A.

Australia
The best collagen
100% brilliant- great product that doesn't taste at all- easy to drink
24/06/2023
Emma W.

Australia
I recommend this product
A nice solution to the average taste of regular Collagen, but there's a little too much sweetener
Found it a little too sweet. Dissolved well and is a good alternative + with the added benefot of Vitamin C
Thanks for your feedback, Emma. We have passed this on to our Product Team. -True Team.
FAQs
What is collagen?

Collagen is the most abundant compound of protein found in our bodies and acts as a sort of 'scaffold' to provide strength and structure. It can be found in our joints, ligaments and muscles and makes up the bulk of the structure in our skin and internal tissues.
What is collagen protein powder?

Collagen Protein is a concentrated source of collagen made from dried and filtered protein sources. Check out our blog on all there is to know about collagen powder.
What is HASTA Collagen protein powder?

Our HASTA range has been independently batch tested for WADA prohibited substances. HASTA formulas are best for athletes who may be drug tested and are looking for added peace of mind when consuming performance-enhancing supplements.
Suggested Use
1. Pour 150-250ml liquid of choice into a shaker. Please note - we recommend room temp liquids for best mixability.
2. Add 10g (1.5 tbsp) Collagen into the shaker.
3. Shake well and enjoy! Use 1-2 times daily or as required.
Features
Nutritionals
Ingredients:
| | |
| --- | --- |
| Ingredients | Hydrolysed bovine collagen (Australian grass-fed) (85.2%), Natural cocoa powder, Organic inulin, Natural flavours, Ascorbic acid (Vitamin C) , Natural sweetener (Organic steviol glycosides). |
| Allergens | Produced in a facility that handles dairy products and nuts. |
Nutritional Information:
| | | |
| --- | --- | --- |
| RICH CHOCOLATE | PER 10G SERVE | PER 100G |
| Energy | 158kJ (38 Cal) | 1580kJ (378 Cal) |
| Protein | 8.4g | 83.6g |
| Gluten | nil detected | nil detected |
| Fat, total | 0.2g | 2.4g |
| - Saturated | 0.2g | 1.6g |
| Carbohydrates | 0.5g | 4.7g |
| - Sugars | 0.0g | 0.2g |
| Lactose | nil detected | nil detected |
| Dietary fibre, total | 0.6g | 6.2g |
| Sodium | 17mg | 174mg |
| Vitamin C | 50mg (125% RDI) | 500mg |