Protein Mousse
products.product.featured_review_caption
This is delicious. Very light and airy texture as you'd expect from mousse. Not too sweet at all and a delicious choclatey treat. Can't believe it's so low in calories!!
Product key benefits
21g protein per serve
High in collagen
Healthy treat alternative
Skip to product information
Nutirional Information

| | | |
| --- | --- | --- |
| RICH CHOCOLATE | PER 30G | PER 100G |
| Energy | 475kJ (114Cal) | 1585kJ (379Cal) |
| Protein | 21.5g | 73g |
| Fat, total | 1.7g | 5.5g |
| - Saturated | 1.1g | 3.8g |
| Carbohydrates | 2.1g | 7g |
| - Sugars | 1.1g | 3.6g |
| Sodium | 162mg | 539mg |
| | | |
Free Shipping Over $99
Australian Made
Money Back Guarantee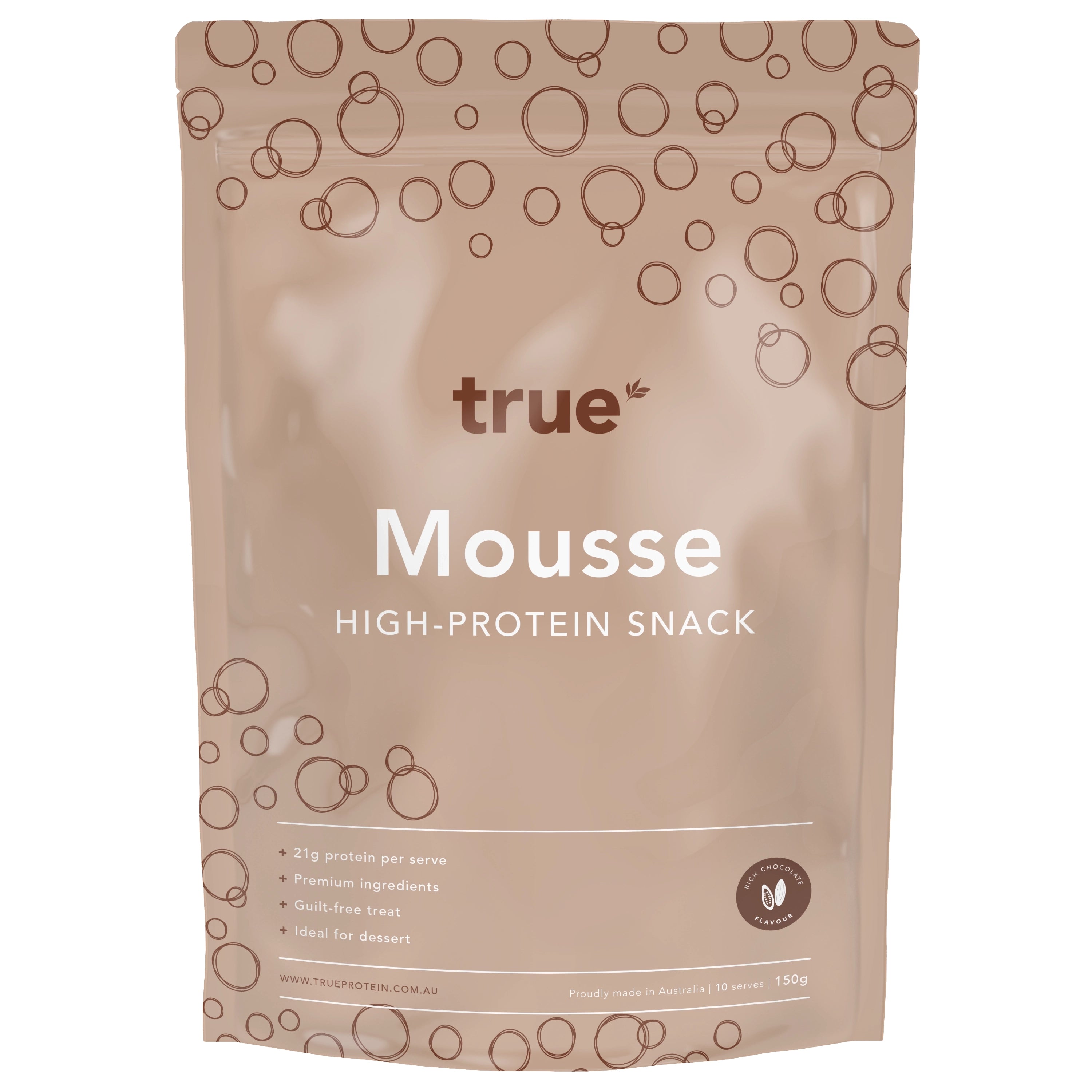 This is delicious. Very light and airy texture as you'd expect from mousse. Not too sweet at all and a delicious choclatey treat. Can't believe it's so low in calories!!
Rich Protein Mousse

True PROTEIN MOUSSE is a nutritionally rich high-protein dessert with a simple, all-natural ingredient profile. With 21g of protein in every serve, PROTEIN MOUSSE is a clean and tasty treat you can feel good about eating.
Premium Ingredients
PROTEIN MOUSSE is formulated with collagen, natural cocoa and whey protein sourced from all over the world to ensure a high-quality product
Nutritionally Rich
PROTEIN MOUSSE is rich in protein and amino acids and low in sugar, making it a treat you can feel good about eating
Great For Hair, Skin & Muscles
Collagen production plays a part in the reproduction of muscle as well as hair, skin and nail cells. PROTEIN MOUSSE boosts your daily intake to support your body with collagen synthesis
Healthy Treat Alternative
Featuring all-natural, nutritionally rich ingredients, PROTEIN MOUSSE is a healthier alternative to store-bought desserts
Naturally Flavoured
PROTEIN MOUSSE contains no artificial ingredients and is simply flavoured with natural cocoa and monk fruit extract
Easy To Prepare
PROTEIN MOUSSE has a simple preparation process, making it easy to add to your day
Reviews + Questions
Customer Reviews
Write a Review
Ask a Question
Filter Reviews:
mousse
texture
milk
treat
dessert
snack
water
taste
protein
flavour
01/12/2023
Tony

United States
Although I have used their Whey Protein for a while now, this was the first time purchasing this product. Definitely didn't disappoint, easy the make, great flavour, would highly recommended as a great High Protein snack!
23/10/2023
Mark C.

Australia
I recommend this product
Awful
Dreadful. Nothing like a mouse. Sets like a gluggy, thick, heavy jelly and has no flavour and a wierd after-taste. Have liked most True products but this is a fail
We're sorry to hear this, Mark, may we ask how you prepared your mousse and whether you used milk or water? We look forward to hearing from you. - Tahls, True Team.
20/10/2023
Jenni C.

Australia
I recommend this product
True Protein Mousse
I liked adding some fruit and or unsweetened maple syrup and/or a touch of coconut icecream to sweeten a little for my taste
12/10/2023
Florence L.

Australia
I recommend this product
Love it
Tastes great, easy to use, good macros
10/10/2023
jack h.

Australia
I recommend this product
Tasty
Follow the instructions and in no time you will be having a guilt free dessert!
FAQs
What liquid should I have with MOUSSE?

For a richer, creamier dessert, we recommend using milk. Water also works well!
Can I use non-dairy milk with MOUSSE?

Absolutely! We recommend whole milk for best results, but it also works amazingly well with water and non dairy options such as oat, almond and soy milk.
Is MOUSSE vegan?

No - MOUSSE contains collagen, whey and milk proteins, which are not vegan-friendly.
Can MOUSSE replace my daily protein shake?

Though MOUSSE is rich in protein for its serving size, we do not recommend it as a replacement to a

protein shake

. This is because it does not include the complete amino acid profile that a protein shake does. Like any supplement or treat, MOUSSE is best enjoyed as part of a balanced diet. To learn more about protein intake, check out our

Ultimate Guide to Protein

.
Can I have MOUSSE in the same day as I have a protein shake?

Yes - the amount of protein in a serving of MOUSSE is fine to be consumed on the same day as a protein shake. However, if you are actively looking to boost your protein intake for the purpose of lean muscle gain, we recommend taking the two spread out across the day as the body cannot store protein.
How is MOUSSE flavoured?

Mousse is simply flavoured with natural cocoa and the sweetness of monk fruit extract. We have sourced the highest quality ingredients to create a delicious natural product that tastes just as good as store-bought mousse, with none of the bad stuff!
What are the benefits of collagen?

Collagen is the most abundant protein in the body, essential for building muscle mass and promoting healthy cell reproduction, along with a wealth of other health benefits. This can include supporting muscle repair and recovery, improving skin elasticity, strengthening bones, building muscle mass, improving circulation and blood flow, repairing skin damage and wounds, and strengthening hair, skin and nails. True's collagen-based Protein Mousse boasts all of these benefits all while providing you with a clean, tasty treat you can feel good about eating.
Can I have MOUSSE if I'm lactose intolerant?

Though you can use water with our formula, MOUSSE contains whey and milk proteins. For this reason it is probably not the ideal dessert if you are very sensitive to lactose. If you are looking for a dairy-free dessert alternative, try our

Vegan Mug Cake

!
Why have you chosen New Zealand whey for MOUSSE?

New Zealand protein is widely regarded as the best available in the market, and superior to Australian and North American equivalents. The livestock processes are of a much higher standard and involve the cattle being exclusively grass-fed and exempt from hormone use. Bottom line, this leads to a higher quality raw material with exceptional mixability and taste in the finished product.
What are the different ways of serving protein mousse?

True's Rich Chocolate mousse is packed with protein and collagen and is delicious just mixed with milk or water, however, it is exceptionally versatile. Great topped with fruit, cacao nibs, coconut shavings or nuts, or take it one step further and enjoy the protein mousse in a layered chia seed cup or chocolate mousse cake.
Is Protein Mousse good for weight loss?

True's Protein Mousse is the perfect snack option when you are craving something indulgent. It is full of wholesome ingredients such a collagen protein and natural cocoa, meaning you can enjoy a treat knowing you are benefiting your body. With

21g of protein per serve

, it also works to fill you up on the good stuff and satisfy cravings, which can prevent you from overeating or binging on junk food later.
Suggested Use
1. Pour 150mL water or milk into a shaker.
2. Add 1 Large True Scoop (30g) of Mousse powder into the shaker and shake well.
3. Mix well until powder is completely dissolved. Remove the mixing ball and leave in shaker or transfer to a small container.
4. Refrigerate for 15-30 mins.
We recommend using milk for optimal taste.
Features
Nutritionals
Ingredients:
Whey protein concentrate (NZ) (34.4%), Milk protein concentrate (NZ) (34.4%), Collagen (16.7%), Natural cocoa (13%), Organic inulin, Natural chocolate flavours, Vegetable gum, Monk fruit extract. Contains milk products and soy lecithin (trace). Produced in a facility that handles tree nuts.
Nutritional Information:
RICH CHOCOLATE PER 30G PER 100G Energy 475kJ (114Cal) 1585kJ (379Cal) Protein 21.5g 73g Fat, total 1.7g 5.5g - Saturated 1.1g 3.8g Carbohydrates 2.1g 7g - Sugars 1.1g 3.6g Sodium 162mg 539mg