BCAA 4:1:1
products.product.featured_review_caption
My favourite BCAA!! I love the pineapple flavour. Mixes well and no unpleasant aftertaste. Good clean ingredients too. I take it daily after my workout, and it really helps with the recovery.
Product key benefits
Sourced from leading amino acid manufacturer
Unsurpassed quality, purity and taste
Provides fuel during workout
Skip to product information
Ingredients

BCAA 4:1:1 Leucine (55%), Isoleucine (13%) , Valine (13%) (Japanese), Citric acid, Freeze dried lemon powder, Organic inulin, Natural lemon flavour, Organic stevia, Vegetable gum, Organic thaumatin.

Allergens

Produced in a facility that handles nuts and nut products.

Nutirional Information

| | | |
| --- | --- | --- |
| LEMONADE | PER 5G SERVE | PER 100G |
| Energy | 79Kj | 1570Kj |
| Protein | 4.0g | 79.1g |
| Fat, total | 0g | 0.1g |
| - saturated | 0g | 0.1g |
| Carbohydrates | 0.3g | 8.6g |
| - Sugars | 0.1g | 1.7g |
| Sodium | 0mg | 3mg |
| Leucine | 2.7g | 54g |
| Isoleucine | 0.6g | 12g |
| Valine | 0.6g | 12g |
Free Signature Crew Socks
Ends 17.12.23. Spend a minimum of $150
Free Shipping Over $99
Australian Made
Money Back Guarantee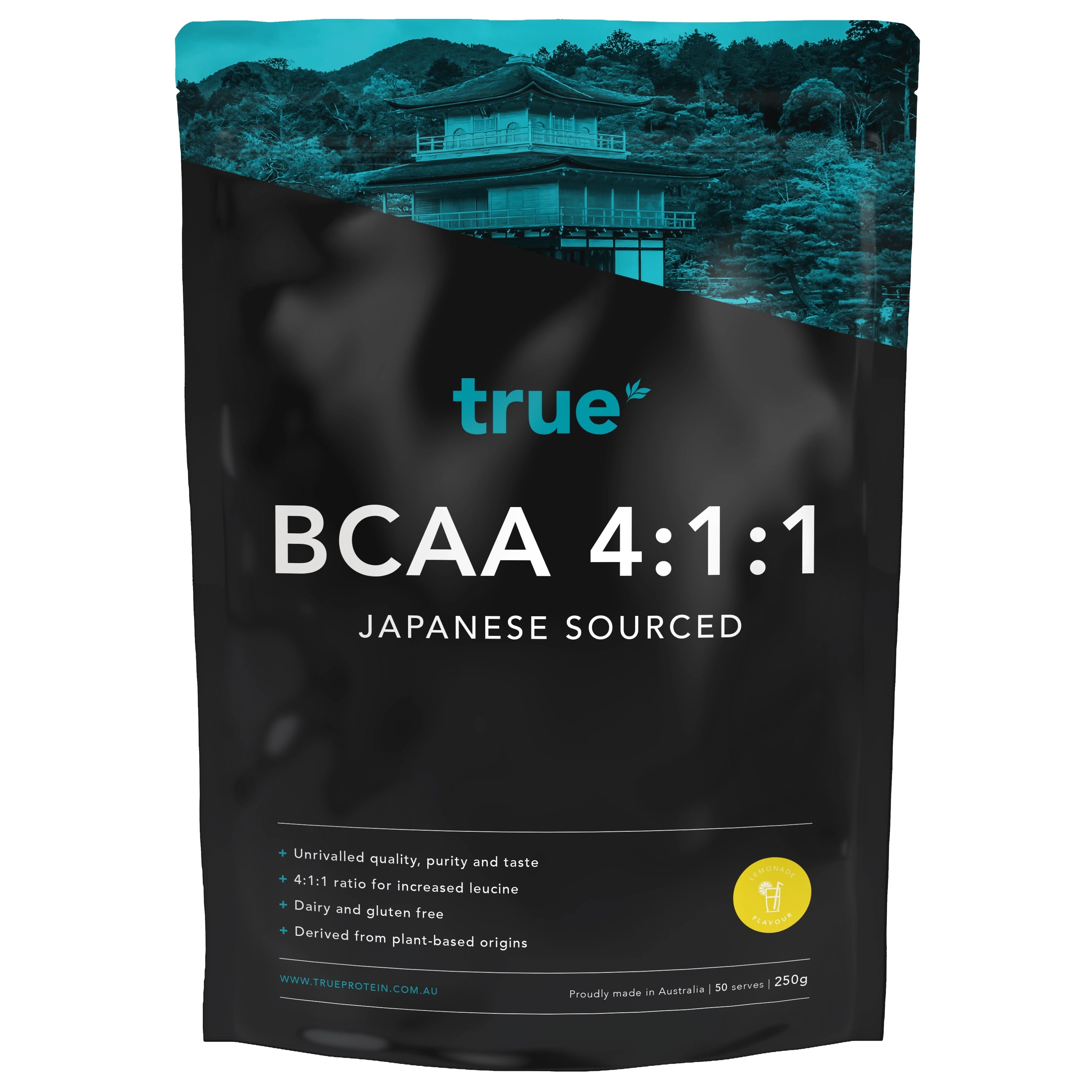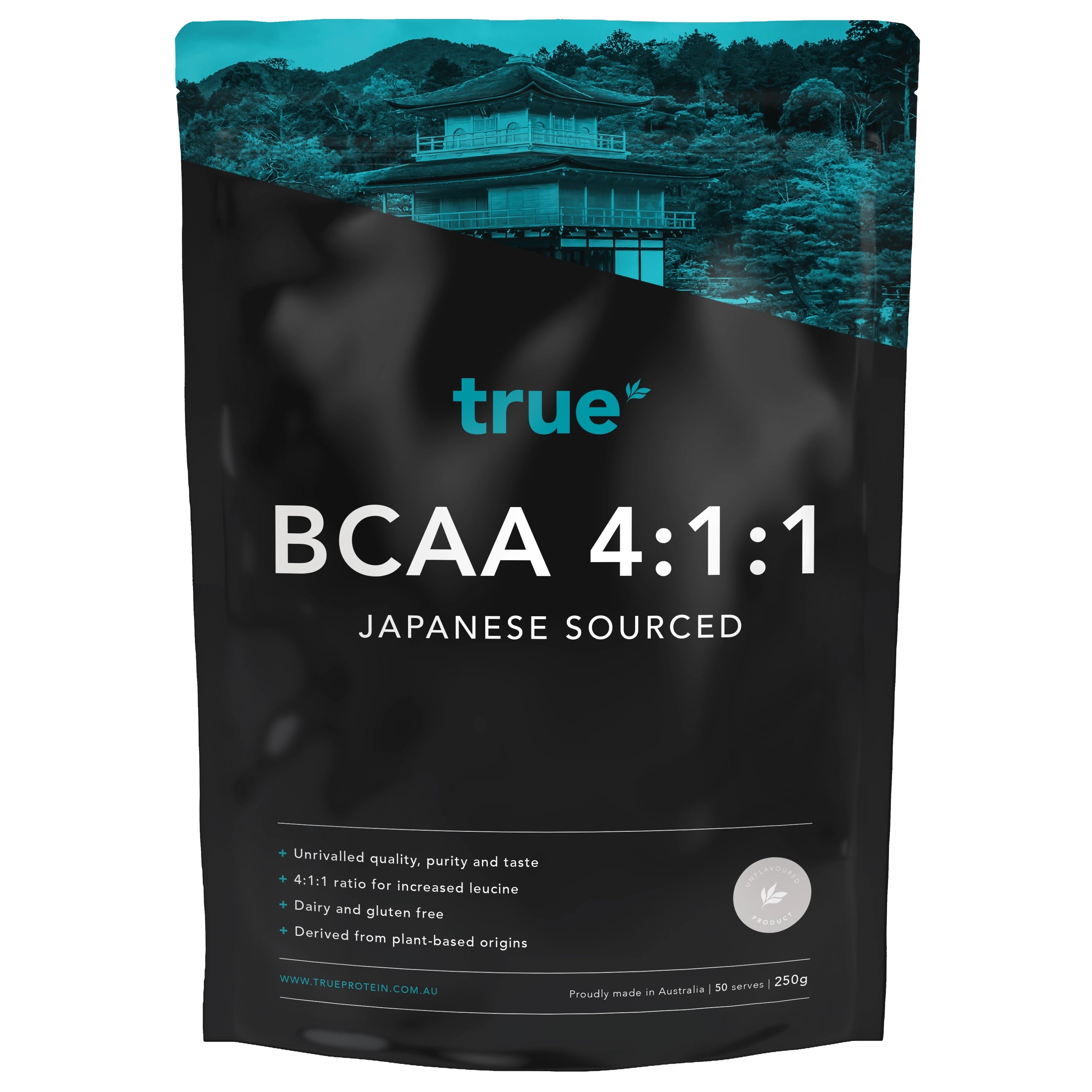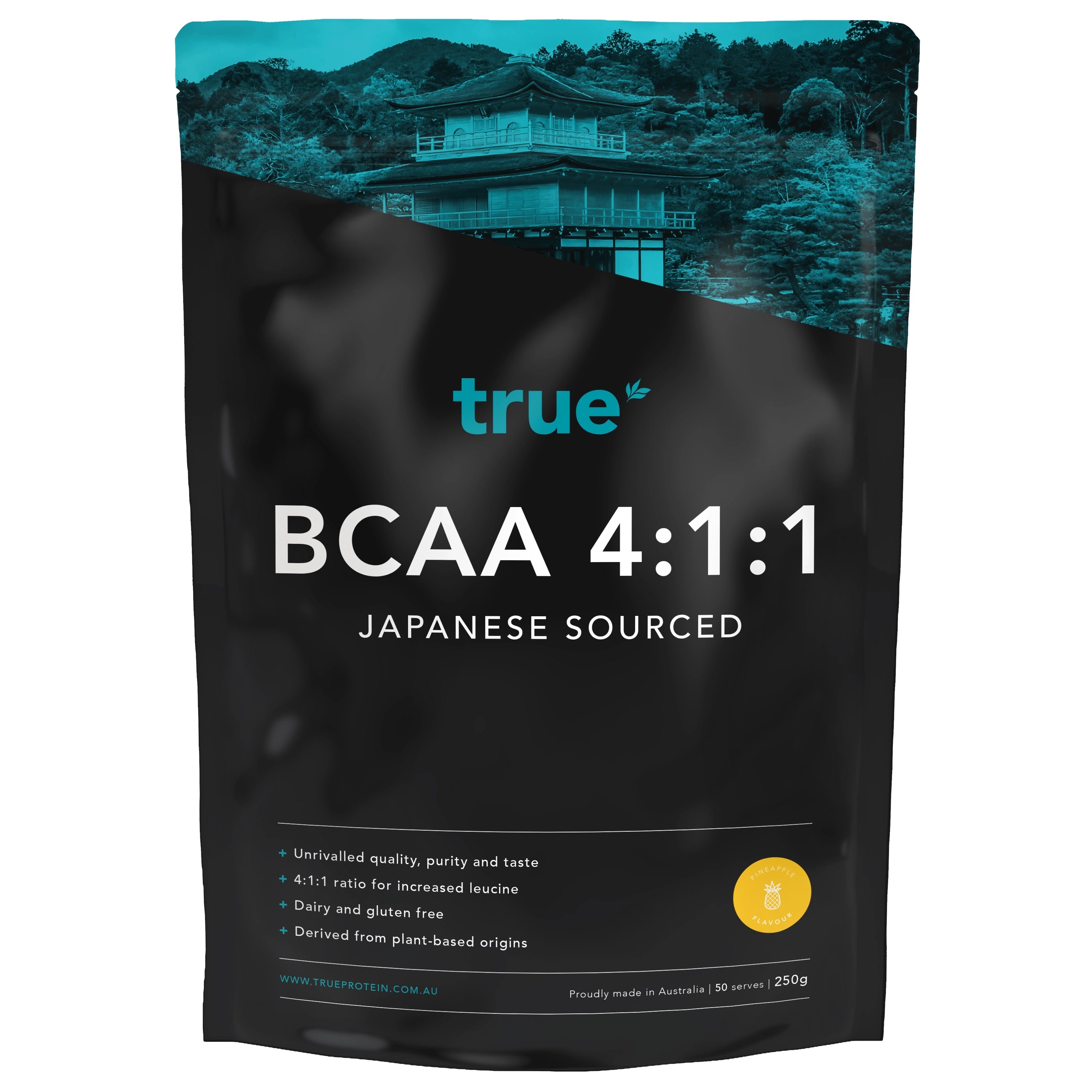 My favourite BCAA!! I love the pineapple flavour. Mixes well and no unpleasant aftertaste. Good clean ingredients too. I take it daily after my workout, and it really helps with the recovery.
Industry Finest Japanese BCAA's
BCAA 4:1:1 is a premium pharmaceutical grade of branched chain amino acids. Sourced from a leading Japanese manufacturer BCAA 4:1:1 utilises non-animal based extraction processes to deliver the industry standard for purity and taste.
Leading Manufacturing Processes
The manufacturer of BCAA 4:1:1 boasts over 100 years of experience in amino acid production. They are considered the global industry leader in this field.
Patented Technology
BCAA 4:1:1 utilises patented technology that delivers the purest and most effective finished product.
Non Animal Extraction
BCAA 4:1:1 is produced from vegetable based fermentation processes as opposed to inferior animal based extraction techniques that are common in China.
Superior Taste
Unflavoured BCAA 4:1:1 delivers roughly 1/10 of the bitterness associated with other forms of BCAA products in the market.
Japanese Sourced
BCAA 4:1:1 is uniquely sourced from a Japanese manufacturer as opposed to the far more commonly sold mass market Chinese BCAA's.
Fuel Your Workout
BCAA 4:1:1 provides a rapid source of amino acids to assist the body during and after workouts.
Reviews + Questions
Customer Reviews
Write a Review
Ask a Question
Filter Reviews:
taste
workout
BCAA
flavour
water
recovery
training
True Protein
difference
muscles
08/09/2023
John A.

Singapore
I recommend this product
Never knew how much I needed this
It tastes really good and just keeps me going! Definitely a must-have for when I'm at the gym or at a HIIT class. I can't wait to try Pineapple next. My only regret is that I wished I had gotten to know about True when I started my fitness journey earlier this year. But I'm glad a recent trip to Melbourne introduced me to your amazing products. I am a loyal fan now.
Hi John, Thank you for taking the time to share your great feedback. We are so happy to have you as part of the True community! - Latara. True team
31/08/2023
Michael S.

Australia
I recommend this product
Convenient way to get your daily BCAA...
* Easy to prepare; * All flavours are great; * Mix it with your daily Creatine dose.
30/08/2023
Kim d.

Australia
Getting those BCAAs in a tasty formula!!
Love this product! Great tasty product for recovery, immediately after my workouts or runs
17/08/2023
Babak S.

Australia
I recommend this product
BCAA 4:1:1 Good Energy Kick Before the Workout
I recently purchased BCAA 4:1:1 from True Protein, and I must say, the product has truly impressed me. The quality is top-notch, and it has become an essential part of my workout routine. I've noticed a significant boost in energy when I consume it before my workouts, allowing me to push myself harder and achieve better results. I highly recommend this product to anyone looking for an effective and reliable supplement to enhance their workout performance.
16/08/2023
Georgia E.

Australia
I recommend this product
Look no further
Very good quality, it's hard to find a product with no added fillers. If your after quality then look no further.
FAQs
What are BCAAs?

BCAA stands for Branched-Chain Amino Acids. The term branched-chain refers to the branched chemical structure of the amino acids. It includes three essential amino acids that our bodies cannot synthesise and therefore we must get them from our diet. They include, Leucine, Isoleucine and Valine. Our BCAA powder is made up of these

amino acids

in the ratio 4:1:1. They can be found in protein-rich foods and if not consumed via our regular diet, supplementation can be useful. It is important that we consume enough BCAAs as they are responsible a number of bodily processes.
What are the benefits of BCAAs?

There are a number of benefits of BCAA powders. Amino acids are the building blocks of

proteins

and therefore, play a vital role in building and repairing muscle. Studies show that BCAA's aid in increasing muscle mass and easing muscle soreness thus resulting in improved recovery. The BCAA Leucine activates a pathway that is responsible for muscle synthesis which is the process of building muscle. However, despite BCAA's being helpful for making muscle, they are not as effective as

whey protein

which contains the other essential amino acids, making it a complete amino acid source.
When should I consume BCAAs?

BCAA powder can be consumed at any time throughout the day, however, most people prefer to have BCAA's before a workout. BCAA's may help fuel your workout and provide you with increased stamina throughout your session. You might also find drinking BCAAs during your workout is a tasty way to stay hydrated. Post-workout or towards the end of the day is also an acceptable time to consume BCAA's particularly if you have not consumed much protein that day. Check whether your BCAA product contains caffeine as this may have some unwanted side effects (for example, not being able to sleep that night). Fear not, True's BCAA 4:1:1 does not contain caffeine and can be enjoyed at any time of day. One serving per day is recommended.
Where are BCAAs derived from?

True BCAA 4:1:1 contains BCAAs from Japan which are produced from vegetable-based fermentation as opposed to inferior animal-based extraction techniques that are common in China.
How do Japanese sourced BCAA's differ from regular BCAA's?

Japanese BCAA's are manufactured in a very different way to alternative BCAA's and are completely different in terms of appearance, taste, density and texture. Through the patented Ferment-A-Pure Technology these Japanese sourced BCAA's deliver the purest non-GMO form of amino acids available in the market. Ajinomoto amino acids are so pure that they are often used for pharmaceutical and clinical research. While the price is higher, than the more common Chinese BCAA's that are widespread in the market, the quality difference is significant. True Protein strongly recommends our Japanese sourced BCAA's as the best option in the market for your BCAA requirements.
Are Japanese BCAA 4:1:1 amino acids suitable for vegans and vegetarians?

Yes, amino acids are simply the individual building blocks of protein itself. Protein comes from various sources such as meats, whole grain carbohydrates and many vegetables. While amino acid profiles will vary in different foods, the actual amino acids are generic whether it comes from an animal or vegetable source. Many vegetarians and vegans may struggle to get adequate amino acids due to their dietary options and by having amino acids in supplement form, optimal levels can be guaranteed regardless of any restrictions faced when choosing wholefoods. Our Japanese sourced BCAA 4:1:1 is extracted from solely vegetable based raw materials making it the cleanest and purest end product in the market. Many Chinese BCAA products are extracted from raw materials of animal origin like horse hair or duck feathers.
How do I know True Japanese BCAA 4:1:1 is good quality?

True Protein's range of Japanese sourced amino acids represents the highest standard in the field of amino acids. The manufacturer is considered a world leader in the field of amino acids and is regularly chosen for advanced scientific and clinical trials.
Are True Japanese BCAA 4:1:1 soy free?

All our Ajinomoto amino acids are certified soy free.
Suggested Use
Add 1 Small TP scoop (5g) to 100ml to 200ml of water or juice, mix and consume. Consume daily or as required.
Features
Nutritionals
Ingredients:
| | |
| --- | --- |
| Ingredients | BCAA 4:1:1 Leucine (55%), Isoleucine (13%) , Valine (13%) (Japanese), Citric acid, Freeze dried lemon powder, Organic inulin, Natural lemon flavour, Organic stevia, Vegetable gum, Organic thaumatin. |
| Allergens | Produced in a facility that handles nuts and nut products. |
Nutritional Information:
| | | |
| --- | --- | --- |
| LEMONADE | PER 5G SERVE | PER 100G |
| Energy | 79Kj | 1570Kj |
| Protein | 4.0g | 79.1g |
| Fat, total | 0g | 0.1g |
| - saturated | 0g | 0.1g |
| Carbohydrates | 0.3g | 8.6g |
| - Sugars | 0.1g | 1.7g |
| Sodium | 0mg | 3mg |
| Leucine | 2.7g | 54g |
| Isoleucine | 0.6g | 12g |
| Valine | 0.6g | 12g |